About Aila Accad, RN, MSN
Aila Accad, RN, MSN, Your Stress-Buster Coach, is an award-winning speaker, best-selling author and well-being coach who inspires and supports nurses to free their lives from stress and restore inner power. Sign up for free De-Stress Tips & News and get a Ten Instant Stress Busters e-book as a gift at ailaspeaks.com and tomorrowsnurse.com.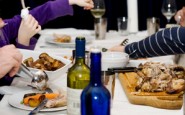 Everyone called me to whine or complain about what other family members were doing. One Thanksgiving, I took action.