About Carlos Navarro
Carlos Navarro is a cofounder of TaxReturnsForNurses.com. When he and his partners began forming their company, they sought to create a single, comprehensive site where nurses could access tax-related information made relevant to their profession and then use that information to file their tax returns.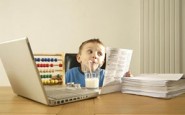 Filing taxes isn't kids play. And some nurses think it isn't nurse's play, either! Get a dose of clear and simple advice…
Did you know that education expenses are deductible – but only sometimes? Get more insider advice with these tips from a seasoned tax pro.