About Evelyn Perkins
Evelyn Perkins, RN, MS, PMH-BC, NE-BC, Clinical Practice Manager, Psychiatry, is a graduate of St. Xavier University's BSN and MS programs. Psychiatric nursing has been her professional area of practice for 30 years, with 25 years in management. She has been a nurse manager in psychiatry at NMH for 15 years. Perkins has published in the area of chemical dependence and presented at local and national nursing conferences on the subject of violence. Recently she was selected to be a mentor for NMH's new mentorship program. This opportunity will expand her current interest in the growth and development of nurse leaders.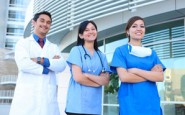 They all start with the letter "c"…and here's a hint: One of the words is "curiousity." Does your team have the right stuff?