About Nick Aretakis
Nicholas Aretakis is author of Ditching Mr. Wrong: How to End a Bad Relationship and Find Mr. Right (Next Stage Press, 2008) and hosts an interactive online community for single women looking for Mr. Right at www.ditchingmrwrong.com.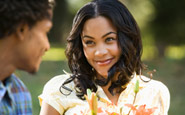 Here are 14 qualities that will save you time and help avoid heartache in the long run.
Chart your date just like you'd chart your patient: Get a history, vital signs…you know the drill, so why not?