About Shawn McNamara
Shawn McNamara, MS, RN is the Nursing Program Administrator/Assistant Dean at Community College of Baltimore County, MD.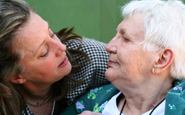 By Shawn McNamara, M.S., R.N.
In nursing, we have the privilege to witness many special events in the lives of our patients. This is especially true in hospice care, when the nurse has the opportunity to work with patients and families as they struggle with many issues at the end of life.
I DON'T WANT MY DAUGHTER TO BE ALONE