Chris and Rosemarie never expected their son to be diagnosed with AML. The parents of one-year-old Liam are the owners of Matrix Gymnastics, a children's gymnastics facility in Chatsworth, CA, just north of Los Angeles. In August of 2019, Liam started showing flu-like symptoms. After repeat visits to a local hospital, Liam still wasn't improving. Frustrated, they brought him in again and refused to leave until someone addressed their concerns further.
The head of pediatrics became involved. Noticing a small black spot under Liam's left eye, he ordered immediate bloodwork. The next day, Liam was diagnosed with acute myeloid leukemia (AML), a rare type of cancer of the blood and bone marrow.
Devastated and heartbroken, Chris and Rosemarie began seeking treatment for their young son. On August 15, his first birthday, Liam started chemotherapy.
Staying Positive in Times of Struggle
Like most parents, Chris and Rosemarie never expected their son to be diagnosed with AML. They own Matrix Gymnastics, a children's gymnastics facility in Chatsworth, CA, just north of Los Angeles. With close ties to the local community, Chris and Rosemarie started sharing updates on Liam's condition on social media, setting up Facebook and Instagram pages under the name Healing4Liam so concerned friends could follow along.
As Liam's treatment progressed, the family had less time to spend in the gym, where Chris is the head coach. In a letter to the Matrix Gymnastics family, Chris and Rosemarie wrote, "As scared and terrified as we are, this little guy is and has been a miracle and he is going to stay that way. The Doctors did tell us that as soon as chemotherapy starts, he'll start to get better. He's always been a fighter and he's always going to be a fighter. Rosemarie and I and the rest of his family are going to be here fighting for him and with him every single second along this journey. This journey is going to be a small part of his long life's story."
Soon, dozens of neighbors, loved ones, and members of the Matrix gym started sending messages of love and support. As grateful as Chris and Rosemarie were for these messages, Liam was confined to an isolation room and could not accept visitors or gifts. Yet, they continued to post updates to the Healing4Liam social media accounts.
Child Cancer: The stats.
Each year, the parents of approximately 15,300 kids will hear the words "your child has cancer." Across all age, ethnic, and socioeconomic groups, cancer remains the number one cause of death by disease in children. Despite major advances that have improved overall cancer survival rates 80 percentage points in 50 years, the prognosis for rare cancer patients is still not good. Furthermore, the incidence of diagnosed cases has not declined in nearly 20 years. Some stats:
Every day, 43 children are diagnosed with cancer.
The average age at diagnosis is six.
12% of children diagnosed with cancer do not survive.
More than 40,000 children undergo treatment for cancer each year.
60% of children who survive cancer suffer late-effects, such as infertility, heart failure and secondary cancers.
However, thanks to technology. In the last 40 years, the overall survival rate for children's cancer has increased from 10% to nearly 90% today. The 5-year survival rate for people 20 and older with AML is approximately 24%. For people younger than 20, the survival rate is 67%.
While Liam was in the hospital, his parents and the staff at the Hollywood Kaiser Pediatrics Unit wanted to keep him as comfortable and happy as possible. On Liam's first birthday and first day of chemotherapy, the nurse on staff wore a Star Wars-themed scrub top from Cherokee Uniforms' Tooniforms collection, which features some of the most popular themes in children's entertainment, including Marvel, Pixar, Hello Kitty and Sesame Street.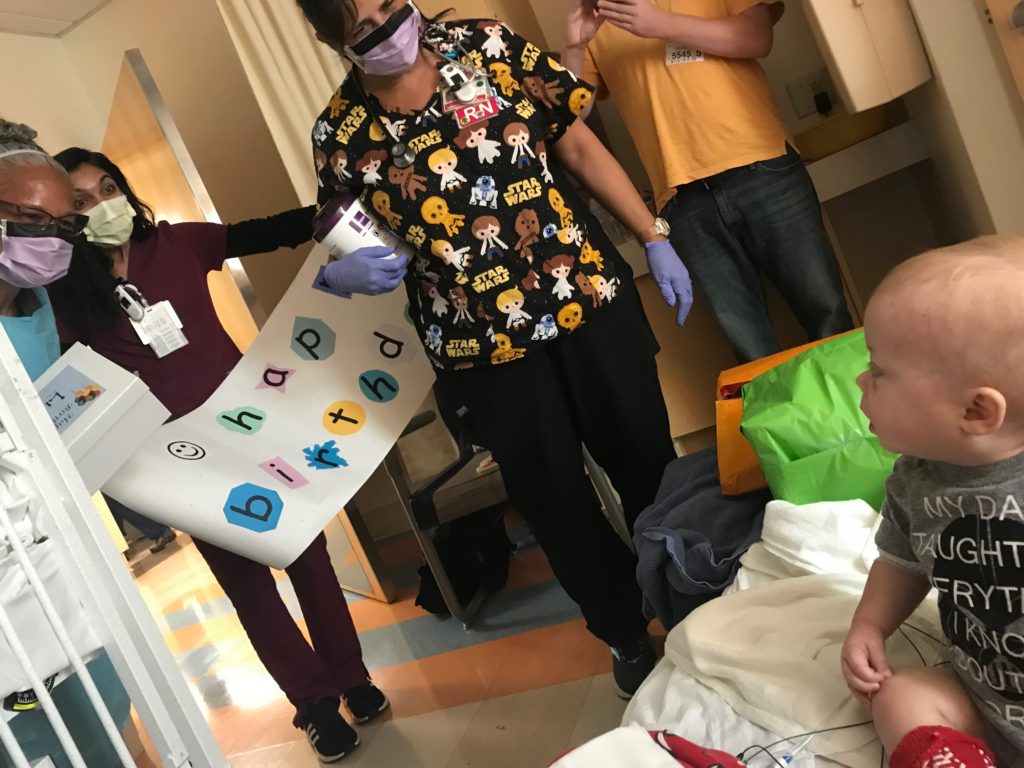 He was also excited to wear a hospital gown from Brave Gowns, which makes fun-filled hospital gowns for younger patients with themes like superheroes, princesses, and sports.
Summer Germann who created the Brave Gowns commented "As a family that went through this devastation first hand, the isolation and gloom you experience with the monotone colors of the hospital walls and gowns are real. I knew that I had to take the loss of my brother and help bring the hospital atmosphere to life. Seeing Liam's adorable face in a Brave Gown during treatment is exactly what I envisioned. These fighters deserve an environment that matches their amazing spirits! Children are wise. They can read their parent's faces. If a parent is looking at a child in a dingy, hopeless gown, their face will reflect their fear. If they are seeing their child with a smiling face, in a superhero gown, they're going to feel more hopeful and that becomes contagious. Brave Gowns are more than just a gown. They are a necessary tool for healing!"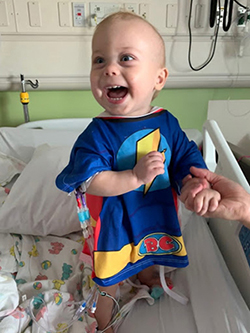 Like Tooniforms, Brave Gowns was created to help children relax while receiving treatment at the hospital. Every gown is MRI-friendly and comes with easy chest ports, full back coverage, and snaps on both sleeves. They're also softer and more comfortable than traditional hospital gowns. Brave Gowns have been worn by over 450,000 little heroes at 275 different children's hospitals.
Despite these difficult circumstances, young Liam felt right at home in his hospital bed. He was surrounded by great doctors and nurses and some of his favorite fictional characters.
On Sunday, September 8, after 10 days of chemotherapy, four platelet transfusions, two blood transfusions, four rounds of antibiotics, 28 days in isolation, and a lot of hair loss, Liam was finally allowed to go home. He left the hospital in his mother's arms, wearing a mask and a big smile on his face.
A slew of Celebrities are already jumping on board and showing their support from Eva Mendes to Kate Hudson.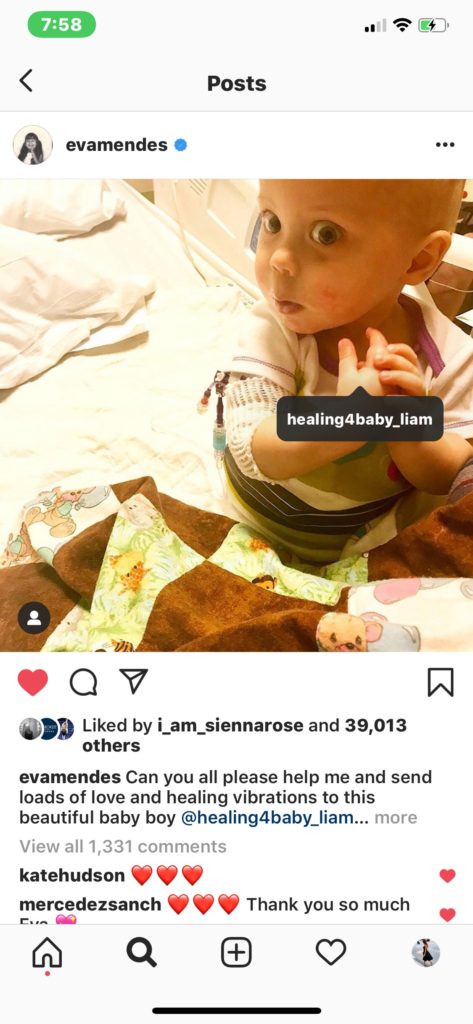 Liam's parents want to thank the Nurses and those that helped him in his recovery. "All the energy went in to brightening his day. In pediatrics you need something fun, and we just loved the fun Scrubs that the Nurses were wearing. We showed Liam the Star Wars, Disney and Hello Kitty scrubs. He loved every bit of it."
Fun Scrubs like Tooniforms certainly make a difference, it's important to remember that most people coming in and out of Liam's room had to wear a mask. He didn't see a smile or a full face for nearly one month. The irony, is now Liam's parents can't stop him smiling. "He's the happiest boy in the World".
You can follow Liam's story on Instagram and Facebook.
This post was sponsored by Cherokee Uniforms.