Back to school must-haves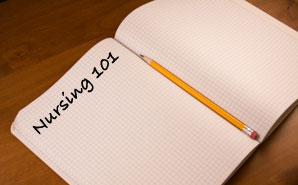 My final is finally over, but I'm starting to realize that my school is running on a completely different clock. While my summer vacation is just getting started, August at an end and everyone else is headed back to school! I am a BIG fan of back-to-school shopping, and that exciting feeling that comes with a new quarter. So while I'm not planning on getting this done just yet – here's some tips for back-to-school shopping and what to put on your list.
1. BOOKS – You gotta have these on your list like it or not. If you're lucky, sometimes you get a syllabus ahead of time from your instructors, or they'll email you ahead of time (or don't be afraid to email them!) and let you know what books you'll need. I've found it's cheaper to buy online at places like Amazon.com or Barnes and Noble (bn.com). They often have discounts on textbooks or shipping. If you don't have a text book list – no worries – I've found that teachers usually allow about a week, knowing that a lot of people order online, or haven't gotten their lists yet!
Instructors have always said that it's super important to keep ALL your books in order to keep your "professional library" together. I have to say that for the duration of nursing school, I agree. For all the case studies you're going to do and for all the research that's needed, you never know when you're going to need these books, and some you will be expected to use for certain assignments. So be sure to hold on to them.
I've kept all of mine, and when I find an area that is particularly interesting to me, I tend to invest a little more for learning supplements (I want to go into pediatrics, so on top of Wong's Essentials of Pediatrics, I bought this clinical companion and care plan guide as well). Use the internet to look up books that will help supplement your learning. It might mean a little more reading, but you'll definitely be one step ahead when it comes time for the test!
2. NOTEBOOKS – Paper or digital, you need something that works for you that will let you take the notes you need and keep you organized no matter how crazy the quarter gets. I am a pen and paper kind of girl. For each class I take, I dedicate a notebook for each, taking class notes and reading notes in two different colors. That way, as the class goes on, I end up having a condensed version of the book and class notes all in one place.
There's no one particular brand I like, but I tend to gravitate toward notebooks that have plenty of writing space (fewer margins and empty space) and durable – anything with a plastic cover and plenty of paper works for me!
3. PENS – My favorite part is picking out the pens. I am a pen junkie and will buy pens anywhere I can find them. My most recent discovery? Foray pens sold individually in different colors at Office Depot. They write so smoothly and the colors make notetaking way more fun
(if that's possible!).
For clinical you will definitely need black ballpoint pens (find something that you know will write well – and always have a spare). It's good to have a red pen with you too, as well as a Sharpie marker (to black out patient names on documents) and maybe even a dry erase marker just in case the one in your patient's room (on the white board) has gone missing again! But no worries if you're just starting and not sure of the specifics. Just as long as you have plenty of regular pens, you'll be okay (pens tend to disappear on the floor!).
4. SCRUBS – If you're just starting nursing school you'll need your scrubs. I don't have a big scrub store nearby, but a small local shop is good enough (and they carry Scrubs Mag in print!). Just be sure to get something that fits you well, that you are comfortable in, and has lots of pocket room for all the supplies (and pens!) you'll need to carry around the floor!
Most schools require those oh-so-white standard uniforms, with a patch or identifier from your school. Check with your school to find out what kind you need, and make sure you have an extra pair. No matter what you think is going to happen, chances are something not-so-pretty will make you wish you had that extra pair, so it's best to be prepared.
5. NCLEX study book – Whether this is your last year and you're seeing the light at the end of the tunnel, or you're just getting started, this is my biggest piece of advice: get yourself a good study book – I think the ones that are separated by each body system are the best since that's most likely how med-surg classes are going to be organized.
My top choice is the Silvestri: Saunders NCLEX study book (4th edition). It's got a blue cover and color pictures. Everything is broken up per system, and there are plenty of review questions per section, and a giant final review test. It also comes with a CD with test questions per system or all mixed up to help you study! And don't forget the quizzes on scrubsmag.com – every little bit helps!
Even if your school doesn't use a specific book, go to your local book store, find the nursing section and settle yourself down and look through them, find one that feels good to you. Make sure there are plenty of practice questions you can use to study for tests and get you r prepared for the big test at the end. It's an invaluable item on your back-to-school list, make sure you find a good one!
These are my top must-haves for the new school year. What else is on your lists? Good luck with your new school year – study hard and don't forget to have fun – you're on your way!