In the most unlikely events of timing, Backpage.com was recently seized by the FBI. April is both Child Abuse Prevention month and Sexual Abuse Awareness month, and so the timing of this seizure couldn't have been more appropriate if of course not sooner.

Backpage.com was seized due to alleged child trafficking, read the full press release below:
The Justice Department today announced the seizure of Backpage.com, the Internet's leading forum for prostitution ads, including ads depicting the prostitution of children. Additionally, seven individuals have been charged in a 93-count federal indictment with the crimes of conspiracy to facilitate prostitution using a facility in interstate or foreign commerce, facilitating prostitution using a facility in interstate or foreign commerce, conspiracy to commit money laundering, concealment money laundering, international promotional money laundering, and transactional money laundering.|
The seven defendants charged in the indictment are Michael Lacey, 69, of Paradise Valley, Arizona; James Larkin, 68, of Paradise Valley, Arizona; Scott Spear, 67, of Scottsdale, Arizona; John E. "Jed" Brunst, 66, of Phoenix, Arizona; Daniel Hyer, 49, of Dallas, Texas; Andrew Padilla, 45, of Plano, Texas and Jaala Joye Vaught, 37, of Addison, Texas.
Attorney General Jeff Sessions, Deputy Attorney General Rod Rosenstein, Acting Assistant Attorney General John P. Cronan of the Justice Department's Criminal Division, First Assistant U.S. Attorney Elizabeth A. Strange for the District of Arizona, U.S. Attorney Nicola T. Hanna of the Central District of California, FBI Director Christopher A. Wray, U.S. Postal Inspection Service Chief Postal Inspector Guy Cottrell and Chief Don Fort of Internal Revenue Service Criminal Investigation (IRS-CI) made the announcement.
"For far too long, Backpage.com existed as the dominant marketplace for illicit commercial sex, a place where sex traffickers frequently advertised children and adults alike," said Attorney General Sessions. "But this illegality stops right now. Last Friday, the Department of Justice seized Backpage, and it can no longer be used by criminals to promote and facilitate human trafficking. I want to thank everyone who made this important seizure possible: all of our dedicated and committed professionals in the Child Exploitation and Obscenity Section and our U.S. Attorney's Office in the District of Arizona, the FBI, our partners with the IRS Criminal Investigation, our Postal Inspectors, and the Texas and California Attorney Generals' offices. With their help, we have put an end to the violence, abuse, and heartache that has been perpetrated using this site, and we have taken a major step toward keeping women and children across America safe."
"Backpage has earned hundreds of millions of dollars from facilitating prostitution and sex trafficking, placing profits over the well-being and safety of the many thousands of women and children who were victimized by its practices," said First Assistant U.S. Attorney Elizabeth A. Strange. "It is appropriate that Backpage is now facing criminal charges in Arizona, where the company was founded, and I applaud the tremendous efforts of the agents who contributed to last Friday's enforcement action and who assisted in obtaining the indictment in this case. Some of the internal emails and company documents described in the indictment are shocking in their callousness."
"This website will no longer serve as a platform for human traffickers to thrive, and those who were complicit in its use to exploit human beings for monetary gain will be held accountable for their heinous actions," said FBI Director Wray. "Whether on the street or on the Internet, sex trafficking will not be tolerated. Together with our law enforcement partners, the FBI will continue to vigorously combat this activity and protect those who are victimized."
"The events of last Friday and today are a big win, not only for the agents who investigated these crimes, but more importantly for the victims, including children, who were harmed as a consequence of the alleged actions of Backpage.com," said Chief Postal Inspector Cottrell. "By laundering the illegal gains of an enterprise, Backpage perpetuated the exploitation of victims and continued to finance their business. The U.S. Postal Inspection Service is committed to protecting our customers by stopping the money laundering to ensure the cycle of victimization ends."
"An indictment of this magnitude is particularly troubling when you look at the various layers of corruption and exploitation that are alleged to have occurred," said IRS-CI Chief Fort. "The masterminds behind Backpage are not only alleged to have committed egregious amounts of financial crimes such as money laundering, they did so at the expense of innocent women and children. While these types of investigations can be made more challenging with the use of virtual currency, offshore banking, and the anonymity of the Internet, it should serve as an example to all criminals that there is not a place they can hide where we will not find them."
The charges and allegations contained in an indictment are merely accusations. The defendant is presumed innocent until proven guilty beyond a reasonable doubt in a court of law.
The effort to seize Backpage was led by the Justice Department's Child Exploitation and Obscenity Section and the U.S. Attorney's Office for the District of Arizona, with significant support from the U.S. Attorney's Office for the Central District of California, the office of the California Attorney General, and the office of the Texas Attorney General. The law enforcement agencies conducting the investigation and seizure include the FBI Phoenix Field Office, the U.S. Postal Inspection Service and IRS-CI. The criminal case is being prosecuted by Assistant U.S. Attorneys Kevin Rapp, Dominic Lanza, and Margaret Perlmeter of the District of Arizona and Senior Trial Attorney Reginald E. Jones of the Criminal Division's Child Exploitation and Obscenity Section. Assistant U.S. Attorney John Kucera of the Central District of California is handling the asset forfeiture aspects of the case.
Seizures such as this aren't uncommon. The FBI hold regular sting operations with codenames, and undercover operations. The Daily Dot reported one such instance whereby an alleged offender on Craigslist had traveled to San Diego to molest younger children in Tijuana. His plan was foiled thanks to federal agents acting undercover. Craigslist itself has since removed it's personals section following the introduction of the FOSTA act which gives authorities and victims more power to pursue online websites who may be considered facilitators in child sex trafficking. When trying to access the personals section, the following message is delivered.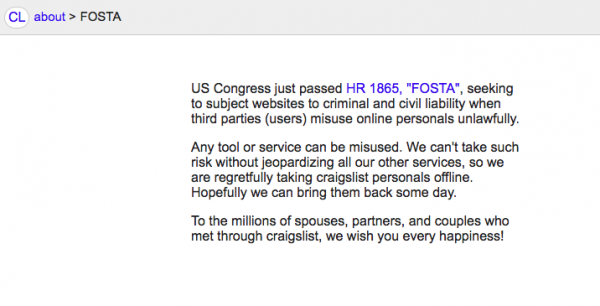 Craigslist Personals in other countries around the globe continue to stay active.
Perhaps two of the most shocking child abuse scandals include the unfortunate cases of Kylie Freeman and 'Tara'.
The story of how James Huskey, a 38-year-old father of two began in Brisbane in 2006.
The victim (Tara) was first abused when she was five, US authorities alleged. The attacks were filmed, photographed and distributed to an international internet paedophile ring.
"The images have become increasingly violent, with the latest showing the subject wielding a large knife toward the victim," the FBI affidavit states.
Police became aware of the videos and images, known as "The Tara Series" in June, 2006, when police in Brisbane tipped off the FBI's Innocent Images Unit in Washington DC about an international child porn ring.
The Australian police believed the ringleader and other members most likely lived in the US.
They were desperate to find the victim and perpetrator because every few months, as new images appeared, the assaults became more violent.
The attacker's face on the images were pixilated, so to track him down and save the girl took immense worldwide effort. According to an FBI affidavit the ring had about 48 members.
Passwords were protected. Members never provided their true identities and no traditional forms of communication were used.
With leads difficult, investigators worked with what they had – the photos and footage. They studied every small detail of the images, particularly background settings or any object that could be traced.
In one photo series it appeared "Tara" was assaulted inside a vehicle. Investigators showed the photo to a car dealer who identified the interior of the car as a Pontiac Aztek painted sunburst orange paint. Investigators then created a list of all registered users of 2003-2005 Pontiac Azteks in Georgia.
In other photos, it appeared "Tara" was being assaulted in a hotel room. In the background was a unique piece of artwork titled Inspired Hillsides. A spreadsheet of all sales of the painting was produced and from the list it was discovered the painting was sold to a hotel in Carrolton, Georgia. The hotel manager confirmed that Huskey was registered in the hotel on July 21, 2007.
A check also discovered a 2005 Pontiac Aztek was registered to a woman with Huskey's surname. They checked the woman's MySpace page and compared background interior photos on it to background shots from the "Tara" images. They appeared similar.
An analysis was also undertaken on a bedspread viewed in some of the images of the Tara series. It was discovered the bedspread was a product of FingerHut Corporation, an online shopping company, which confirmed products were sent to Huskey's home.
As authorities closed in, they compared Huskey's driver's licence photo to the pixilated pictures in the Tara series images and it showed "Huskey as having a close resemblance".
On Monday, FBI agents raided Huskey's home in LaFayette, Georgia, northwest of Atlanta. They allege he quickly confessed.
"Huskey admitted to sexually molesting a nine-year-old child since she was approximately six-years-old and posting images and videos on the internet," the FBI affidavit states.
On Tuesday, the alleged victim was interviewed.
"She disclosed that Huskey had been sexually abusing her for several years," the FBI affidavit states.
Huskey received a 70 year federal prison sentence.
The Kylie Freeman case was just as shocking.
"Once in a while, there comes along somebody who is just beyond description," U.S. Marshals Director John Clark.
Authorities charge that Freeman raped his daughter over a two-year period, starting when she was 10 years old. He videotaped the scenes and posted them online in what, they said, became "one of the most widely downloaded child pornography videos" in recent history, seen by millions.
"Certainly, there are sexual predators out there; there are individuals who exploit children," said Clark. "But this guy seemed to rise above all of them."
The U.S. Marshals and Immigration and Customs Enforcement gave the case top priority, placing Freeman on their respective "Most Wanted" lists.
"We are rejoicing today," the stepfather of victim Kylie Freeman said Wednesday. "We're happy. An awful man, an evil man, has been captured."
Victim Spoke Out, Helped Solve Case
Kylie Freeman, now a high school student, chose not to speak at the press conference announcing the arrest, though she has become an advocate against child sexual abuse.
In December 2006, she took her story to the airwaves, appearing on "America's Most Wanted."
Her story helped authorities, in cooperation with the National Center for Missing and Exploited Children, put the pieces together and zero in on Kenneth John Freeman.
Authorities arrested their suspect, a former deputy sheriff from Benton County, Wash., in Hong Kong after a weeks' long effort to pin him down — a cooperative effort carried out by the U.S. Marshals, Immigration and Customs Enforcement, the State Department and Washington's Benton County Sheriff's Department.
Freeman fled the United States in March of last year, on the lam since he missed a court appearance that month. Sources say he crossed the border into Canada, then flew to China. Federal authorities determined he was living in Suzhou, China, and might have been working for a U.S.-based company.
With the assistance of the Chinese government, U.S. law enforcement began tracking his movements, and identified an opportunity to arrest him on a trip he took to Hong Kong to meet his second wife, whom they also had under surveillance.
Freeman, a body builder, reportedly tried to escape arrest, injuring four officers in the process.
Billion-Dollar Black Market Industry
Child porn has emerged as a multibillion dollar black market industry, though "average people don't believe it," said Ernie Allen, president of the National Center for Missing and Exploited Children.
"The reality is, with the advent of the Internet, the problem of child pornography has exploded," said Allen. "There are more victims, the victims are younger, there are millions of people who are consuming, who are watching these images."
U.S. Marshals Director Clark noted that with technology's advances comes the downside that children like Kylie Freeman can be victimized repeatedly.
"Individuals like Mr. Freeman post pictures globally that are downloaded hundreds of thousands of times. [This] means that this image of this innocent child gets replicated and viewed over and over and over again," he said.
Criminals Close to Home
"I think the depravity that this represents is impossible to overstate," said Allen. But he said the scenario of a father victimizing his own child is an unfortunate reality.
"There's a myth here," he said, "and that is the myth of the stranger."
Allen pointed to NCMEC's data, which show that most child sexual exploitation victims know the perpetrator of the crime — at least 35 percent of them are the victim's own parents and 70 percent are other family members or someone close to the child.
"Overwhelmingly, the people who are victimizing America's children, photographing it and distributing it via child pornography are close to the child," he said. "Many of them are their dads."
"When you think of the nature of [his] crime, what [he has] allegedly done, and how it can be so harmful in this case to an innocent child, who was exploited in such a terrible way … this case represents, for me, I think, one of the most despicable crimes I can think of," said Clark.
The Childhelp National Child Abuse Hotline is dedicated to the prevention of child abuse. Serving the U.S. and Canada, the hotline is staffed 24 hours a day, 7 days a week with professional crisis counselors who—through interpreters—provide assistance in over 170 languages. The hotline offers crisis intervention, information, and referrals to thousands of emergency, social service, and support resources. All calls are confidential. 1.800.422.4453.
Some information courtesy of ABC news and the Australian Telegraph.