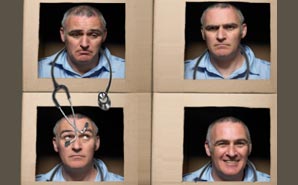 We like to feature two highlights each week that caught our eye. Here, this week's version of "Good news/Bad news"…
Bad:
A neonatal intensive care nurse from Melbourne, Australia that desperately wants to have a baby was born without a uterus. According to statistics, one in 5,000 women is born without a uterus. Melinda Arnold, who is 34, and her husband Andrew have tried unsuccessfully three times to use a surrogate mother, and have also been unsuccessful in adoption attempts.
Good:
The good news in all of this? Arnold, who has ovaries that produce eggs, has decided to undergo a womb transplant to have a child, with her mother acting as the donor. That means, if the surgery is successful, Arnold's baby will be born from the same womb from which she was born. The procedure will be only the third known womb transplant in the world, and will be performed at Gothenburg University in Sweden. The first transplant took place in 2000 and was not successful because the organ was rejected. The second took place August 9 of this year, and has been deemed successful so far, though the womb recipient still has to wait six months before trying to become pregnant via In Vitro Fertilization.
There are health as well as ethical concerns surrounding the womb transplant issue, which, if successful, could provide many women with the opportunity to become pregnant that otherwise could not. Let us know in the comments section how you feel about the procedure.
Source: