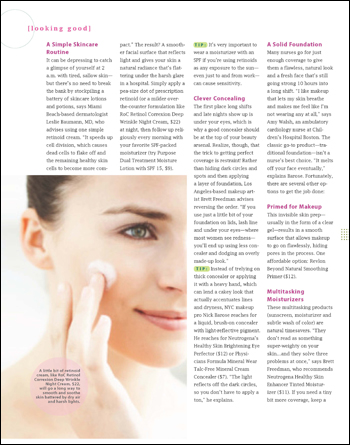 There's no question that a medical workplace is serious business, and that styles that fly in an office—look-at-me lips and nails; long, loose hair; dangling earrings—have no place in a hospital. Yet a little bit of beautifying can give you inner poise as well as outer polish. "I truly think that when my patients see me walk into their room with an air of confidence, looking well-groomed, they're immediately at ease and have the sense that they're being cared for by someone who has it all together—it even increases their confidence in my abilities as a nurse," says Theresa Fleskes, a medical review nurse in Highlands Ranch, Colo. "We have to treat ourselves with respect, and if that means taking the time to do our hair before a shift, then we need to do it!" Coming right up from the Spring 2011 issue of Scrubs, simple fixes that'll boost your spirits as well as your looks.
The Two-Step Skincare Routine
It can be depressing to catch a glimpse of yourself at 2 a.m. with tired, sallow skin—but there's no need to break the bank by stockpiling a battery of skincare lotions and potions, says Miami Beach-based dermatologist Leslie Baumann, MD, who advises using one simple retinoid cream. "It speeds up cell division, which causes dead cells to flake off and the remaining healthy skin cells to become more compact." The result? A smoother surface that reflects light and gives your skin a natural radiance that's flattering under the harsh glare in a hospital. Simply apply a pea-size dot of prescription retinoid (or a milderover-the-counter formulation like RoC Retinol CorrexionDeep Wrinkle Night Cream, $22) each night, then follow up religiously every morning with an SPF-packed moisturizer (try Purpose Dual Treatment Moisture Lotion with SPF 15, $9).
Tip: It's very important to wear a moisturizer with an SPF if you're using retinoids as any exposure to the sun (outside on a break, to and from work) can cause sensitivity.
Lighten Up!
The first place long shifts and late nights show up is under your eyes, which is why a good concealer should be at the top of your beauty arsenal. Realize, though, that the trick to getting perfect coverage is restraint! Rather than hiding dark circles and spots and then applying a layer of foundation, Los Angeles-based makeup artist Brett Freedman advises reversing the order. "If you use just a little bit of your foundation on lids, lash line and under your eyes—where most women see redness—you'll end up using less concealer and dodging an overly made-up look."
Tip: Instead of thick coverage, which can lend a cakey look that actually accentuates lines and dryness, NYC makeup pro Nick Barose reaches for a liquid, brush-on concealer with light-reflective pigment—he loves Neutrogena's Healthy Skin Brightening Eye Perfector ($12) or Physicians Formula Mineral Wear Talc-Free Mineral Cream Concealer ($7). "The light reflects off the dark circles, so you don't have to apply a ton," he explains.
A Solid Foundation
Many nurses go for just enough coverage to give them a flawless, natural look and a fresh face that's still going strong 10 hours into a long shift. "I like makeup that lets my skin breathe and makes me feel like I'm not wearing any at all," says Amy Walsh, an ambulatory cardiology nurse at Children's Hospital Boston. The classic go-to product—traditional foundation—isn't a nurse's best choice. "It melts off your face eventually," explains Barose. Fortunately, there are several other options to get the job done:
Use a makeup primer. This invisible skin prep—usually in the form of a clear gel—results in a smooth surface that allows makeup to go on flawlessly, hiding pores in the process. One affordable option: Revlon Beyond Natural Smoothing Primer ($12).
Try a tinted moisturizer. These multitasking products (sunscreen, moisturizer and subtle wash of color) are natural timesavers. "They don't read as something super-weighty on your skin…and they solve three problems at once," says Brett Freedman, who recommends Neutrogena Healthy Skin Enhancer Tinted Moisturizer ($10.49).If you need a tiny bit more coverage, keep a compact foundation on hand (like M·A·C Studio Fix Powder Plus Foundation, $26) to quickly touch up visible spots, applying it over your tinted moisturizer with a damp sponge.
Have a look at HD products. Thanks to TV reporters, who need to hide pores, wrinkles and lines that become visible on high-definition screens, these newest HD formulations are brilliant at giving skin a diffused, untraceable, silk-like texture. The easiest to apply, such as Make Up For Ever HD Microfinish Powder ($15 for 0.17 oz), are colorless; you simply sweep a small amount over your face with a large, fluffy powder brush.
Be a Little Cheeky
"It's hard to make anything last through a 12-hour shift when you're running around and sweating," says San Francisco emergency room nurse Lindsey Gravelle. Although powder blusher is fast and easy, Barose warns that it can become noticeably blotchy if you perspire. The good news: Even if you're not feeling rosy, you can walk the walk by relying on a mousse, gel, liquid-tint or cream cheek color that adds an uplifting flush to skin under fluorescent hospital lights…and stays put for hours on end. Here are four products that top the charts.
Maybelline New York Dream Mousse Blush ($7.50): This little pot of whipped color is so light, it's virtually mistake-proof.
Tarte Natural Cheek Stain ($30): This super-simple gel-in-a-tube gives you that "I just pinched my cheeks" look.
BeneFit Cosmetics BeneTint ($28): This rose-colored, waterproof, liquid cheek stain (apply it with an accompanying brush) can stand in as a sheer lip color as well.
Almay Smart Shade Blush ($9): This high-tech blusher-in-a-tube does the work for you so you don't choose the wrong color. The shade-sensing technology starts white, then turns to right.
Brushing Up on Blush
When applying blusher, most women start on the cheeks and brush or blend upwards towards temples. News flash: Best to reverse your steps. "If you begin at the hairline and work forward, then you'll end up with just the right amount of color on the apples of your cheeks," says Nancy Glass, makeup and trend expert for Clinique. "But the other direction results in an overly rosy, unnatural look; plus, you'll use too much product." A good pick: Clinique Quick Blush ($22.50)in Hurry Honey—a subtle, universally flattering shade. The all-in-one tube swivels up to reveal a full brush, preloaded with color.
Lip Service
One of the fastest ways to perk up your looks—lip color—can easily be tucked into the pocket of your scrubs. "Hospitals tend to be dry, so nurses get dehydrated—and that means lips get dry, too," explains Walsh, who's always got a tube of lip color on her to prevent cracking and give an instant pick-me-up. Something as simple as Vaseline Lip Therapy Petroleum Jelly in Cherry ($1.69) can do the trick; it's moisturizing and easy to apply without a mirror.
How to Get Nude
It goes without saying that glitzy red lips have no place in a hospital setting, but beautifully enhanced yet subtle lips are an instant feel-good strategy. When selecting your shade, choose carefully, Barose advises. "Natural isn't supposed to look like a sandbox. You want a little bit of color without being too nude or too brown; otherwise it ends up looking like you're wearing concealer on your lips," he says. Instead, thinkbaby lips as in "natural," withjust a hint of pink or peachy tones. Shop these three products for a hint of color that moisturizes and stays put: L'Oréal Paris Infallible Never Fail Lipcolour($12;best shade: Azalea); Stila Long Wear Liquid Lip Color ($22; best shade: Patina); and Tarte LipSurgence Natural Lip Tint ($24; best shade: Peaceful).