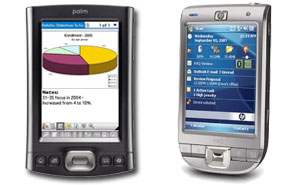 A smartphone is a cell phone that can also run software applications (think iPhone and Blackberry). Some smartphones include email and Web capability and are considered handheld computers. If you're looking for recommendations on the best smartphones for nurses, click here!
PDAs, on the other hand, are handheld computers without phone capability. PDAs, in fact, started the handheld computing phenomenon.
Best PDAs for Nurses
So what's the best PDA for nurses? This is tricky, as PDAs are becoming obsolete.
If you really don't want a device that contains a phone, then I would recommend either the Palm TX (Palm OS) or the Dell Axim X51 (Windows Mobile OS). I have both of these PDAs and they work well. They may be harder to find as time goes on. These PDAs are no longer offered for sale directly from their manufacturers, though they do still offer technical support.
Also, you can probably find one of these devices "new in box" on eBay or a similar site at a great price. These are good choices for bargain hunters, or for those who are unsure about this whole handheld computing "thing" and want to check it out without spending a lot of money or signing up for cell phone service.
Best Nursing Apps for PDAs
Using a PDA as a clinical reference tool at work is a great way to save time and practice more efficiently. If you're interested in adding some clinical apps to your device, check out the list below for a list of best apps, my favorites, plus some medical software sites to begin your search.
Andy's favorites Nursing Apps (available for both smartphones and PDAs):
Epocrates Essentials. I like that it's concise, and the drug interaction checker is terrific. It also comes with a bevy of medical calculators. I use several of these throughout each workday.
5 Minute Clinical Consult (5MCC). This is a great clinical reference. I got this because the iPhone version of the Epocrates software doesn't have it; instead they use a proprietary reference source that they create in-house. You can get 5MCC from several different software vendors. I got mine from Unbound Medicine. I also like that if I ever choose not to purchase a subscription renewal, the basic reference will still be available and usable on my iPhone, it just won't download program updates anymore.
PDA Medical Software
Writer's note: Smartphones and PDAs come in many shapes and sizes, and finding the one that works best for you is a highly individualized process. Feel free to take my recommendations with a grain of salt.