Beyond bedside: How to become a "Legal Nurse Consultant"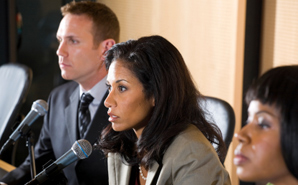 Did you enter nursing to affect change?
As a young critical care nurse, I envisioned ways to improve care and adopted my mantra: "Just because that's how it's always been done doesn't mean it's the best way." I had a passion for taking care of coronary artery bypass graft patients and desired to optimize care by suggesting changes. I worked nights, and there was no effective way for me to measure patient outcomes other than assuming that if a patient had transferred to telemetry, his care was adequate. Adequate doesn't necessarily mean "affect change."
I became a legal nurse consultant (LNC) to continue my quest to affect change. LNCs are registered nurses who have completed specialized training in medical record review and the litigation process to consult on medical-related cases.
How do attorneys decide which clients to represent in medical-related lawsuits? Traditionally, case screening is done by a paralegal or the attorney. Today, more and more attorneys are using the clinical expertise of LNCs to screen cases and give opinions regarding their validity. They recognize that clients would rather have a medical expert evaluating the case.
As an LNC, your knowledge could affect change throughout case development. It would influence case settlements and trials, as well as plaintiff or defense verdicts and awards.
How to Become a Legal Nurse Consultant:
Get Educated: You can do this through home study, training by modules, online courses and four- to six-day seminars.
Get Certified: Certification denotes mastery of coursework and requires continuing education to maintain.
Top 10 Benefits of Being a Legal Nurse Consultant:
(10) Emancipation: You get to choose your focus of practice.
(9) Holidays off: I never miss time with family and can take vacation when I choose.
(8) Flexible schedule: I set my hours around my activities.
(7) Environment: I work at home and I love my employees—me!
(6) Education: Each case offers a personal learning opportunity and, in turn, I educate my clients.
(5) Networking: I've met many people in different fields and enjoy building relationships.
(4) Endless career possibilities: I work for plaintiff and defense clients, write, give in-services, guest lecture.
(3) Financial growth: I can work part-time if I choose because of an increased salary.
(2) Independence: I work for my own company, therefore providing excellent customer service.
(1) Contentment: I'm happy with my career and what I do EVERY DAY!
If you are self-motivated, can work independently but collaborate with a team, and are organized and analytical, this may be for you. My new career made a difference in my life in an empowering way, even leading me to start my own business. I developed a new way of thinking and functioning to cultivate my practice.
LNCs affect change with every case, and there are measurable outcomes. Let me say that again: LNCs AFFECT CHANGE WITH EVERY CASE!
I challenge you to AFFECT CHANGE in some small way each day.