Every week we scour the Internet for controversy, quotes and stories related to nursing and the things you care about. Tune in to read our roundup every week!

1. Several New York hospitals are now requiring nurses to wear white… and nurses aren't happy about it. NY Daily News

"When you buy white polyester, it turns yellow," said Patricia Kane, a nurse at Staten Island University Hospital. "There's also the see-through factor, which is a real issue. We bend and we stretch and we push and we pull. It's not good when you have to wear white and you're wondering what the guy in the next bed is thinking," Kane told Crain's New York Business.
"Like most hospitals, our various clinical departments all wear different color scrubs," said North Shore LIJ spokesman Terry Lynam. "It's a camaraderie thing, but what makes it difficult as a patient is you have so many people coming in and out of your room and most people struggle to know who does what."
2. D.C. looks to set nurse-to-patient minimums, which have existed in California for 10 years (see photo chart below). Washington Examiner

"We're going to set a priority, and that priority is going to be patient care over profit," said Ward 1 Councilman Jim Graham, one of nine D.C. lawmakers who said they would support the measure when it is introduced Tuesday.
"Patient safety is regularly threatened because hospital corporations refuse to ensure there are enough registered nurses working," said Bonnie Linen-Carroll, a Washington Hospital Center nurse. "It is an absolute disgrace."
"This bill is common sense," said D.C. Council Chairman Phil Mendelson. "This bill is today's version of the eight-hour day, something that we will see business resist, but on the other hand makes good sense and will lead to quality care."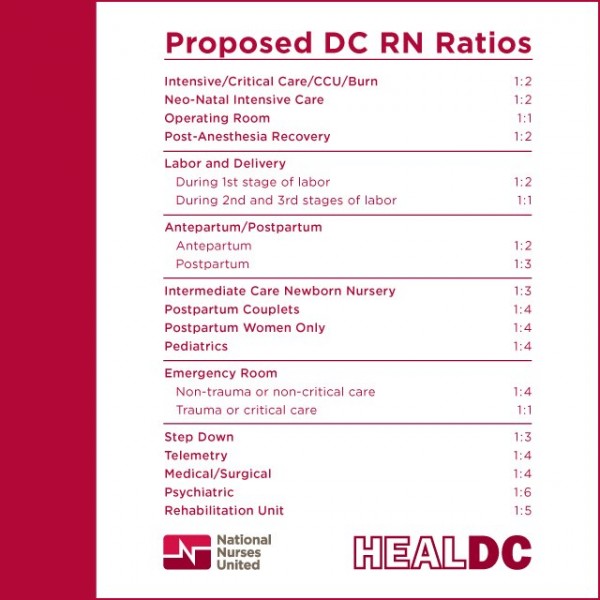 3. Largest nursing union in the U.S. gets involved in fight against possibly toxic pipeline. TruthOut.org

National Nurses United Co-President Deborah Burger said, "Nurses care for patients every day who struggle with health crises aggravated by environmental pollution in its many forms… As a society, we need to reduce the effects of environmental factors, including climate change, that are making people sick, and endangering the future for our children. That's why we oppose the Keystone XL pipeline."