California's nurse-to-patient ratio cuts nurse injuries by one-third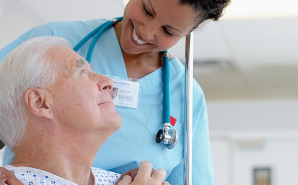 California's mandatory nurse-to-patient ratio has reduced LPN injuries and illnesses by more than 33 percent a year since the law was enacted in 2004, according to a new study. The numbers were similar for RNs, with injuries and illnesses reduced by an average of 32 percent over the same time period.
"We were surprised to discover such a large reduction in injuries as a result of the California law," said the study's lead author, J. Paul Leigh, according to a press release. "These findings should contribute to the national debate about enacting similar laws in other states."
California is currently the only state with a mandatory minimum staffing ratio. However, other states have some staffing laws and some are considering enacting a minimum.
The study was done by researchers at the University of California, Davis, and published in the journal International Archives of Occupational and Environmental Health. It looked at the injury and illness rates before and after the law was enacted, also comparing California's rates to those of all other states combined.
The study's authors found that the minimum staffing ratio also resulted in other benefits, including increased nurse job satisfaction.
"Our study links the ratios to something just as important—the lower workers' compensation costs, improved job satisfaction and increased safety that comes with linking essential nursing staff levels to patient volumes," said Leigh.
California nurses, do these findings seem similar to what you've noticed on the job? And for nurses who don't live in California, do you think that a mandatory minimum staffing ratio would have a positive impact on your job satisfaction and safety? Weigh in below.