Caring for an Aging Population: A Growing Need for Gerontological Nurses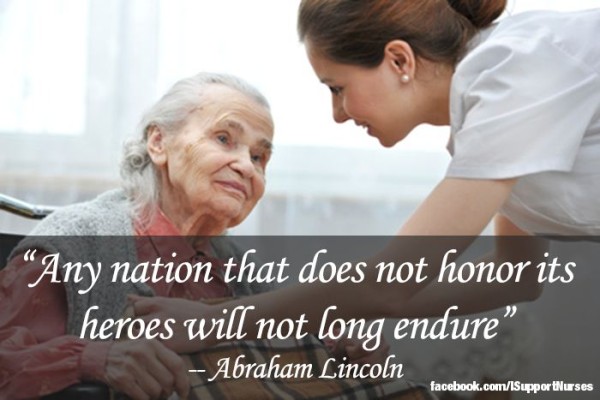 October 23-29 is Gerontological Nursing Week, a time to celebrate those among us who care for our senior citizens. As the world faces an aging population, it's possible that in the coming decades, we may face a gerontological nursing shortage. People are living longer, leaving them to face the unique health challenges of their autumn years. Nurses who specialize in gerontological care will be increasingly in demand, and it's important for the nursing community to foster strong educational initiatives for those who choose to focus on elder care.
The Population is Getting Older – Are Nurses Prepared?
The "Baby Boom" generation is one of the largest in history. Born between 1946 and 1964, this is the generation that fought in Vietnam, went to Woodstock, and shaped American history. This generation is massive, much larger than their successors, Gen X, or their predecessors, the "Greatest Generation." As baby boomers continue to age, it creates unique challenges for the healthcare industry. The world is on the cusp of having one of the largest elderly populations in history. By 2050, the population aged 65 and over is projected to be at least 83 million, more than double the number of senior citizens in 2012.
This ongoing growth of the population of people over 65 has led to concerns about a gerontological nursing shortage. As Baby Boomers continue to move into their late '60s and beyond, there will be an increased need for nurses and other healthcare providers who are prepared for the unique needs of geriatric patients. Not only are these nurses needed in primary care and acute care settings, but also in assisted living facilities and for in-home care. Senior citizens need the help of caring, compassionate, and experienced nurses. But today, few nurses have the right training.
Continue reading by clicking here!
Most Nurses Lack Gerontological Training
We're already in the midst of a nursing shortage, and by 2020, the nursing workforce is expected to drop to 20% below projected requirements. Many nurses aren't adequately prepared during their education to meet the needs of older patients.
Many elderly people have quite a few different health problems at the same time, posing unique challenges for nurses and gerontologists. Despite the fact that gerontology is its own medical specialty, as of 2010, only one third of baccalaureate nursing programs offered even a single stand-alone course on gerontological nursing. Only about 3% of nurses are certified in geriatric care, yet the reality is that 63% of newly licensed registered nurses end up working predominantly with older adults. Older adults have healthcare needs that are more complex than those of younger people, often with many comorbid problems occurring at once. As the North American population continues to age, it's essential that nurses receive the training they need to provide the best possible care to older patients.
Preparing the Next Generation of Nurses
Great strides are already being made in improving the quality and quantity of gerontological training for nurses. The National Gerontological Nursing Association has publicly put forth a number of recommendations:
All students need core knowledge relating to the health and wellbeing of older adults.

This includes a comprehensive understanding of how the aging process affects people not only physically, but mentally, emotionally, and socially.
A gerontology-specific practicum should be required of all nursing students.

Supervised clinical practice experience during nursing education can help prepare students to provide interdisciplinary gerontological care.
Gerontology content should be incorporated into existing nursing curricula.

Along with gerontology as a senior elective, clinical rotations in settings like assisted living facilities, senior centers, and home care can provide useful hands-on experience.
Gerontological education should be taught by someone qualified.

Nurse educators for gerontological coursework should be experienced, knowledgeable, and passionate.
Nursing schools should offer gerontological mentorship programs.

For healthcare professionals, one-on-one mentorship can be an indispensable part of the educational process. Nurses with a commitment to elder care can provide support, training, and advisement to the next generation.
The Future of Gerontological Nursing
The Baby Boom generation has already begun to enter their sixties and seventies, and America is about to face the largest population of senior citizens ever. As the population ages, gerontological nursing will continue to become incredibly important. Even nurses who don't specifically work in gerontology will still need a good educational foundation to prepare them for the unique and complex needs of older patients. New initiatives to improve gerontological curricula in nursing programs is essential to ensuring that this elderly population receives an adequate standard of care.
SEE MORE IN:
Career, Featured Articles, Inspiration and Stories, Nursing Student Advice