Celebrate the Release of Star Wars: The Rise of Skywalker with These Tooniforms Scrubs
The iconic Star Wars story is coming to a dramatic conclusion as Disney gets ready to release the final film of the legendary series. The film, Star Wars: The Rise of Skywalker, will hit theaters Friday, December 20th and tickets are going fast. To get ready for the big premiere, show off your inner fandom with these new Star Wars scrubs from Tooniforms, a special line of cartoon scrubs from Cherokee Uniforms.
The Women's V-Neck Star Wars Print Scrub Top features a cartoon head of Princess Leia, the toughest woman in the galaxy. It even comes with a saying, "The future of the galaxy is female," so you can send the right message to all the girls who want to be Jedi masters when they grow up. It's the feminist Star Wars top you've always wanted, and Avery Woods (pictured) looks like a superwoman.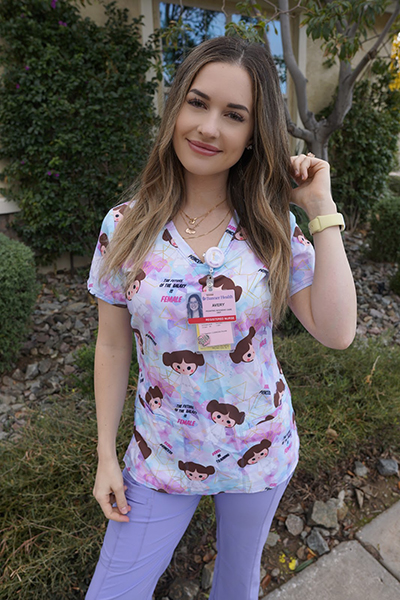 The Men's V-Neck Infrared Print Scrub Top sets a much darker tone, but you didn't think we'd let Darth Vader get in the way of Santa, do you? Of course not, so the funny folks at Cherokee put a Santa hat on the Storm Troopers (we like to call them Santa Troopers). The Dark Side is strong with this one. You probably remember James Earl Jones' booming voice from your childhood, so now you can relive all your favorite memories with your patients. Check out Nurse Rozay on Instagram. We triple dare you to DM him with 'May The Force Be With You.'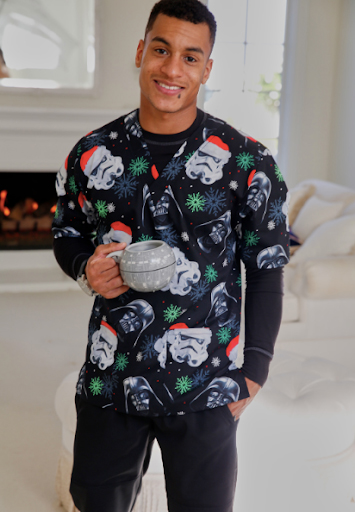 Star Wars fans are known for dressing up as their favorite characters, such as Obi Wan Kenobi, Princess Leia, R2D2, and even the man himself, Luke Skywalker. If you're going to the premiere in theaters, get ready to see plenty of hardcore fans dressed up in cosplay. Looking to join in on the fun at work? These Star Wars scrubs are just what you've been looking for.
This year's release is bound to make all kinds of headlines. Sadly, Carrie Fisher passed away at the end of 2016, but the movie magicians at Disney have found a way to bring her back to the silver screen using previously unseen footage. The movie will also bring the saga of Rey, Finn, Poe, and Kylo Ren to a dramatic conclusion. These actors have carried the franchise to new heights, creating millions of new Star Wars fans in the process.
There are plenty of reasons to get excited as Star Wars heads to a theater near you. Show off your love for this iconic universe with a pair of limited-edition scrubs.
Shop the collection from All Heart
Follow Cherokee on Instagram at Instagram.com/CherokeeUniforms and tag us with your Holiday snaps.