Nurses, are you planning to tune into the Rose Parade this morning? Whether you're a yearly follower or an infrequent observer, we recommend you check it out this year. Why? For the first time ever, there's an entire float dedicated to nursing!
In 2007, a group of five Southern California nurses learned that Sally Bixby, RN would be the 2012 President of the Tournament of Roses. Bixby is the first RN (it's about time!) and second woman to be the tournament's president in its 124-year history.
To honor Bixby and nurses worldwide, those five nurses got together and founded the non-profit Bare Root, Inc. With the funds raised by the non-profit, they built "A Healing Place," the nurses float to be featured in the 2013 Rose Parade.
Says Bixby, "I got chills that they thought [my presidency] would be an opportunity to honor nursing and its opportunities as a career." She adds that all nurses "should be proud of our profession; I certainly am."
Bixby received her degree in nursing from Pasadena City College and a Master's in health care management from California State University, Los Angeles. Over the course of her long career, she has been a staff nurse, a supervisor and, most recently, the Director of Surgical Services at the City of Hope National Medical Center and Beckman Research Institute. She retired from nursing three years ago.
Take a look at some sneak peek pics of "A Healing Place" (taken two weeks prior to the float's completion):
The float's front
Some of the vibrant animals and plants that adorn the float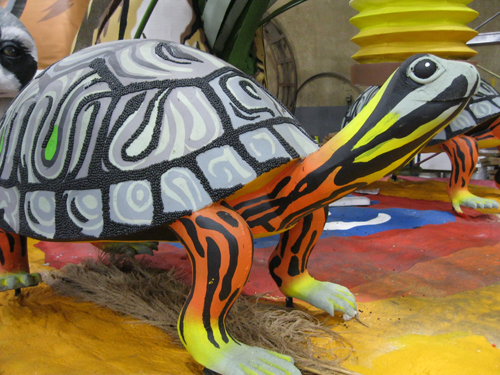 Hand-placed beads on a colorful turtle
Characteristics of a good nurse are inscribed on the float's base!

When it's finished, the float will be covered with 6,000 roses, 3,000 Gerbera daisies, 2,000 carnations–and (of course!) some nurses! Bare Root, Inc. chose ten nurses and nursing students from all over Southern California to ride the historic float.
Tournament of Roses President Sally Bixby, RN (in red jacket) with some of the float's riders
Bixby and nine of the float's 10 riders, including two Pasadena City College nursing students
Bixby says it has been a "privilege" representing the Tournament of Roses this year. She'll be presiding over the Rose Bowl football game with the Royal Court–luckily, she likes football! And which team is she supporting today, Wisconsin or Stanford? Bixby says she can't tell, but she's rooting for the best team to win.