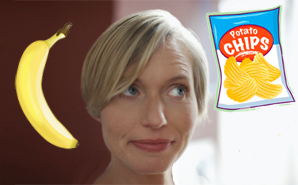 Let's say you have three minutes, a hungry stomach and a stack of quarters.
Before you plug the machine, you'll want to scan this "best foods to choose" checklist. We reveal that surprise! Some "healthy" foods are packed with sugar!
And guess what? Some potato chips are actually okay to eat…
Meals/Meal Substitutes
Wrap made with deli meat, low-fat cheese and whole-wheat tortilla
Turkey sandwich on whole-wheat bread
Low-sodium soup
High-protein nutrition bar
Instant oatmeal (ideally the lower-sugar varieties)
Chicken or tuna salad with whole-wheat crackers (look for low-fat mayo)
Snacks
Edamame
Baby carrots
Almonds or peanuts
Nonfat yogurt
Apple, orange or banana
Pretzels
Dried fruit (check the sugar content, though…you'd be surprised how much is in a small bag of cranberries!)
Baked chips (especially sweet potato or veggie crisp ones)
Part-skim string cheese
Laughing Cow Mini Babybel Light Original (the red wax-encased rounds)
Drinks
Bottled water
Vitamin-enhanced water (but look at the calorie counts!)
100-percent fruit juice
Skim milk
Unsweetened tea
Notes to remember:
1. To hydrate yourself, water is always best. Start with a bottle of water before eating one item from the snack list, then wait 20 minutes. You'll feel more satisfied than when you're just eating.
2. Watch your portion control on chips and crackers; those small bags often claim to be two servings. Look for the 100-calorie packs or practice awe-inspiring self-control and eat just half a bag.
3. High-protein nutrition bars are a good option on days when you have no time to sit. The higher protein level and somewhat higher fat level will give you a feeling of satiety longer than a plain granola bar.
4. If you find yourself with a selection of different cheeses in your vending machine sandwich (a luxury, we know!), look for low-fat Swiss, feta or part-skim mozzarella.
Thanks to columnist Diane Porter, RN, for her input on this checklist.