Cherokee Uniforms Celebrates 90 Years of Mickey Mouse
Sponsored by Cherokee Uniforms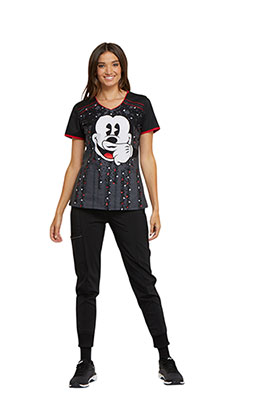 This year is the 90th anniversary of the first Mickey Mouse animated short ever to be shown in theaters: Steamboat Willie. The date of the world-changing premiere was November 18, 1928, which has since been generally deemed as the birthday of the famous character. Disney is celebrating Mickey Mouse's 90th birthday throughout the entire year with all kinds of events, but it isn't the only company to do so. Cherokee is also celebrating and is paying tribute with exclusive designs for its scrubs and accessories that feature the beloved mouse.
For more than 25 years, Cherokee Uniforms has been a leader in medical scrubs and accessories, well-known for comfort, durability, originality, and fashion. Cherokee offers fabrications, designs, and new apparel technology that so many of us have come to rely on to get us through each workday.
The company uses various high-end fabrics from across the globe to meet the unique needs of healthcare workers like nurses, making Cherokee scrubs and accessories the most sought-after on the planet. Some of the technology Cherokee integrates into its workwear includes Certainty Fabric, which resists spills and stains; additional features include moisture-wicking technology, softness, stretch, durability, and of course, comfort and easy care.
One of the most popular lines Cherokee produces is the Tooniforms line, licensed from Disney itself. Every season, Cherokee rolls out uniforms that pay tribute to some of the year's Disney movies or Disney characters and this year, the main mouse himself is featured. 
Tooniforms were created to introduce a bit of fun to medical environments, where fun can make a healthy difference. The scrubs have been described as "whimsical, light-hearted, and guaranteed to make people smile."
In addition to Mickey Mouse and his pals, you can find other beloved cartoon characters featured on Cherokee's scrubs from movies and shows like Despicable Me, Sesame Street, Peanuts, Looney Tunes, Dr. Seuss, Marvel, and many others.
If you're interested in staying comfortable at work while you show off your love for your favorite characters, you can find the Tooniforms at retailers around the world, as well as online at sites like Cherokee4Less.com.