Classic scrubs fashion
Feel like you don't have anything to wear to work? It might be time to incorporate some classic scrubs pieces into your wardrobe. While fashion always cycles through one trend to the next, classic styles look good today and tomorrow. Building a closet of classic scrub styles doesn't have to be boring. They can be accented and updated with the smallest accessories.
What's a classic scrubs piece?
A classic working wardrobe is a functional wardrobe. Each piece should mix and match well together. You want each item to be able to be paired with at least three other pieces in your wardrobe.
Color is also important. You want to build a wardrobe of scrubs with basic solid colors like black, brown, taupe, white, navy or green. Patterned pieces that hold up over time are stripes and polka dots. Neutral pieces can be interchangeable with bright colors.
Fit is always the name of the game. If your scrubs are a good fit, you look good. Classic tailored lines work because of their ability to flatter, their wearability and their style. The beauty of a classic piece of clothing is its simplicity.
Scroll through to see eight scrubs outfits that I think are flattering and will be in style for years to come:
V-Neck Top & Drawstring Pant (from Cherokee)
Mock Wrap Top & Cargo Pocket Pant (from Cherokee)
Empire Waist & Elastic Pant (from Dickies)
Jewel Neck Warm-up & Boxer Pant (from Cherokee)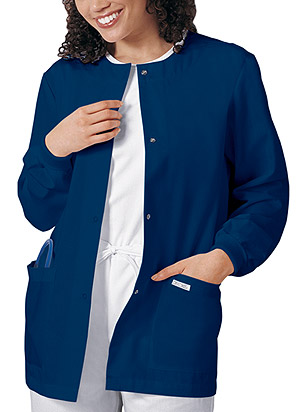 SEE MORE IN:
Beauty & Style, Scrubs Fashion Tips, Scrubs Style, SPI
Want scrubs like these? Find a retailer near you!