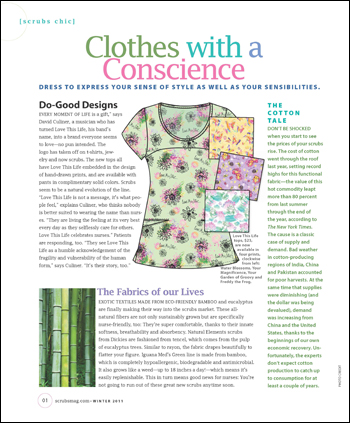 From the Winter 2011 issue of Scrubs
Dress to express your sense of style as well as your sensibilities.
Do-Good Designs
"Every moment of life is a gift," says David Culiner, a musician who has turned his band's name into a brand everyone seems to love—no pun intended, since Love This Life has taken off on t-shirts, jewelry and now scrubs. The new tops all have "Love This Life" embedded in the design of hand-drawn prints, and are available with pants in complimentary solid colors. Scrubs seem to be a natural evolution of the line.
"'Love This Life' is not a message, it's what people feel," explains Culiner, who thinks nobody is better suited to wearing the name than nurses. "They are living the feeling at its very best every day as they selflessly care for others. 'Love This Life' celebrates nurses." Patients are responding, too. "They see 'Love This Life' as a humble acknowledgement of the fragility and vulnerability of the human form," says Culiner. "It's their story, too."
The tops, $23, are now available in four prints–Freddy the Frog, Water Blossoms, Your Garden of Groovy and Your Magnificence.
The Fabrics of our Lives
Exotic textiles made from eco-friendly bamboo and eucalyptus are finally making their way into the scrubs market. These all-natural fibers are not only sustainably grown but are specifically nurse-friendly, too: They're super comfortable, thanks to their innate softness, breathability and absorbency. Natural Elements scrubs from Dickies are fashioned from tencel, which comes from the pulp of eucalyptus trees. Similar to rayon, the fabric drapes beautifully to flatter your figure. Iguana Med's Green line is made from bamboo, which is completely hypoallergenic, biodegradable and antimicrobial. It also grows like a weed—up to 18 inches a day!—which means it's easily replenishable. This, in turn, means good news for nurses: You're not going to run out of these great new scrubs anytime soon.
The Cotton Tale
Don't be shocked when you start see the prices of your scrubs rise. The cost of cotton went through the roof last year, setting record highs for this functional fabric, whose cost leapt more than 80 percent from last summer through the end of 2010, according to The New York Times. The cause is a classic case of supply and demand. Bad weather in cotton-producing regions of India, China and Pakistan accounted for poor harvests. At the same time that supplies were diminishing (and the dollar was being devalued), demand was increasing from China and the United States, thanks to the beginnings of our own economic recovery. Unfortunately, the experts don't expect cotton production to catch up to consumption for at least a couple of years.