The Code Happy App
DOWNLOAD the latest version of the Code Happy App on iTunes and Google Play!

The Code Happy is now available on Google Play and on all iPhone and iPad devices. For free.
The Code Happy App is your community where you can call for support and send support with messages and animated "Happygrams."
BUILD YOUR SUPPORT CIRCLE
The main screen of Code Happy shows floating bubbles representing nurses who have called for support in the past 24 hours. The small bubbles are nurses you may not yet know…the larger bubbles represent nurses you have added to your support circle.
You can create your support circle by adding like-minded nurses or even find nurses who work in the same facility as you so you can trade shifts via the Code Happy App. (TIP! Tap on the bubble to flip it and read more about that nurse!)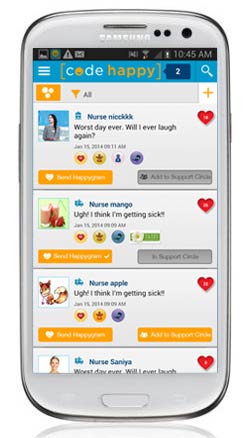 INVITE, FRIEND, REPEAT
You can find friends on Code Happy a number of ways: By email address, by specialty, by nickname or by workplace.
You can add or remove people from your support circle anytime, and you can control how you can be found by others through your privacy settings. (TIP! The more active you are, the more you're celebrated on Code Happy! Grow your support circle, send lots of Happygrams, share our Smile of the Day and you could earn badges to land you in our Hall of Fame!)
ASK FOR SUPPORT
Do you need support today? There are several ways you can "Call Code Happy." When you Call Code Happy, you can write your own message or select from a list of ready-made messages that our Code Happy panel of nurses have written for you.
The members of your support circle get an alert when you're in need of support! Your bubble will also appear on everyone's screens with your Code, and nurses will be able to send you a message of support called "Happygrams." (TIP: You can control your notifications and Happygram messages through your settings on Code Happy…there are all sorts of way to protect your privacy. Privacy and notification options are easily accessible through the menu screen.)
SEND SUPPORT
You can send Happygrams several ways. You'll always see in your notifications when someone in your support network has Called Code Happy, and you can then send them a quick note. You can also click on any floating bubble and send a Happygram to a nurse in need! You'll find more than 300 animated cartoons that you can send with your message of support. (TIP: You can save any of your custom messages for future use just by adding it to the list!)
There's a lot more to discover on Code Happy. We're always looking for great deals for nurses, jokes to make you smile, ways to celebrate the most active nurses on Code Happy, and more.
The new version of Code Happy is now available on Google Play and on all iPhone and iPad devices!
Don't just listen to us…read what other nurses have to say!
***** Great concept!
Love this app! It is so inspirational and I always feel better after I check in. I've been telling all my friends and coworkers about it too. Thanks for creating this.
– Mom 300
***** Terrific app!
Nurses everywhere are dealing with the same concerns. Code Happy provides a way for nurses to reach out to other nurses to ask for or to give support. Customer support is fantastic – I sent a question via e-mail and got a helpful response the same day. The app crashes occasionally, as do all apps, but it's hardly a big deal. I enjoy this app and other nurses will too, so give it a try!
– SpineCNOR
***** Love this app!
What a unique take on nurses and happiness. Love this app.
– SummersHere
***** Intriguing!
Love this app. Perfect for perusing on my lunch break.
– TheresaNY2012
***** Delivering Happiness in a new way…
I think the new Happy App is a great way to brighten everyones day. We all know how stressful our jobs can be so if someone wants to give me tips, inspiration…then I am all for it. Well Done..
– Fly-Fishing Chick
P.S. From all of us here at scrubsmag.com…the app is pretty new and we'd love to know what you think! Please send any questions or bug reports to codehappy@scrubsmag.com. And thank you!