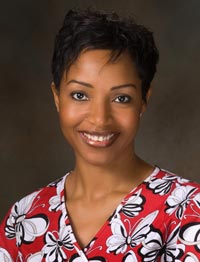 From the Spring 2010 issue of Scrubs
On a 2006 trip to her native Guinea, Diaraye Bebe Sylla, a clinical nurse at the University of Texas M.D. Anderson Cancer Center, saw first-hand how little access the people had to healthcare. Armed with a dream to make her fellow Guineans healthier, she searched for a supporter in the area who would help her provide vital medical supplies and services for the citizens of Guinea. Her persistence paid off and a partner stepped forward to help bring relief to her beloved nation and its people.
Sylla's actions helped birth American Friends of Guinea (AFG), a nonprofit that she now leads as president and which has saved thousands of medically underserved Guineans by providing free medications, supplies and services to health centers and hospitals in the West African country. Due to her valiant efforts, Sylla is one of just six recipients nationwide of the 2009 Cherokee Inspired Comfort Award. Sylla received the coveted Grand Prize in the award's registered nurse category.
Sylla spends vacations travelling annually to Guinea with a medical team, usually paying her own way. While there, she and her team focus on hospitals or health centers with the most critical needs and identify high-priority needs to target on the next trip. Once back in the U.S., Sylla seeks additional financial support from her fellow Houstonians in order to meet those needs.
In the summer of 2007, Sylla and her team of physicians and nurses provided cholera camps in Guinea with badly needed antibiotics and intravenous hydration. Cholera is passed from person to person due to poor sanitation and causes severe diarrhea and vomiting, which can quickly lead to dehydration – especially among babies, younger children and the elderly. The team rented trucks and paid for a crew to pick up trash on the streets, hoping to stop the epidemic at its source. Sylla says future top priorities include providing a generator and water well for an area clinic.
"Bebe Sylla's commitment to providing exceptional, compassionate care in Guinea and enhancing healthcare resources for underserved, often overlooked, populations is saving and changing lives. She is living proof of the difference that one nurse can make," says Wendell Mobley, who directs Cherokee Uniforms' charitable and scholarship programs. "Sylla began her career as a nursing assistant and then climbed the ladder to become a licensed vocational nurse and then earned her RN certification. What she has accomplished during that time is amazing, and we are honored to present her with the Cherokee Inspired Comfort Award."
The award is granted by Cherokee Uniforms to recognize nurses and other non-physician healthcare professionals who demonstrate exceptional service, sacrifice and innovation and have a positive impact on others' lives. This is the seventh year the leading designer and manufacturer of healthcare apparel has honored inspirational caregivers.
Sylla was nominated by Yvette Ong, associate director of clinical nursing at the M.D. Anderson Cancer Center, where Sylla has worked for the past 11 years. She explains, "I've seen pictures of the children she's helped before and after treatment. To see an emaciated child become so healthy and full of life is very touching. I have great respect for what she does."
As the Grand Prize Winner, Sylla receives an all-expense-paid Caribbean cruise for two, a wardrobe featuring the best of Cherokee Uniforms and Cherokee Footwear worth more than $1,000, a Cherokee Inspired Comfort Award trophy, and a 14K gold-plated commemorative pin.
Her ability to help fellow Guineans is a highlight of her nursing career, Sylla says. She explains, "The happiest moments are when I know I have made a difference in the nursing profession. I helped deliver a baby in Guinea during one of my trips. The mother had been in labor for quite some time so I helped in any way I could. When the baby was delivered, it was a beautiful little girl. When I came the following week to see them, she told me that she named her baby after me. These are some of the moments that make my profession the best."
Since the Cherokee Inspired Comfort Awardwasestablished in 2003, more than 7,000 healthcare professionals have been nominated in the Registered Nurse, Advanced Practice Nurse, Licensed Practical Nurse/Licensed Vocational Nurse, Student Nurse and Non-Physician Healthcare Professional categories. A panel of Cherokee representatives and past Cherokee Inspired Comfort Award recipients evaluates nominations and grants the awards.
For every nomination, Cherokee Uniforms donated $1 to Nurse's House, a national fund that provides short-term financial assistance to registered nurses facing serious hardship. Proceeds from Cherokee Uniforms products support healthcare professionals through initiatives such as the Cherokee Inspired Comfort Award, scholarships for students enrolled in nursing school, and an inspirational film for nurses. Cherokee Uniforms will be accepting nominations for the 2010 Cherokee Inspired Comfort Award beginning March 1 through May 31, 2010. For further information on the award, please visit http://inspiredcomfort.com. You can also congratulate Diaraye on her win in the comment section here.
Sponsored by Cherokee Uniforms