Copper bed rails may kill germs in hospitals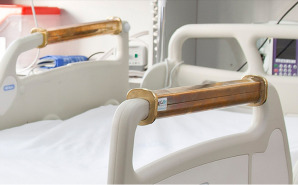 Could a copper bed rail be the next instrument to help fight the spread of germs and infections in hospitals?
Constanza Correa recently spoke to NPR about the research her company, Copper BioHealth, has been doing after installing copper safety bed railings in Chile for the past year. She calls bed railings the most contaminated surface in a hospital room since it comes into direct contact with both patients and medical staff.
"Our objective is to decrease the chance of infection due to surface contact," she said. "So we replace current bed rails with copper bed rails. It kills viruses, fungi and bacteria continuously."
It has long been known that bacteria, yeasts and viruses are killed when they come into contact with a copper metallic surface. Copper was used in medical settings in Egypt at least as early as 2600–2000 B.C., according to the NPR article.
In more recent data, the presence of copper-alloy surfaces in the U.S. has reduced the number of infections from 8.1 percent in regular rooms to 3.4 percent in rooms with copper, according to Infection Control and Hospital Epidemiology.
Correa recognizes that the high cost of copper is an issue, and her company offers a lease program where hospitals pay for the railings by the month, then own them after three years. She also says she hopes copper will be incorporated into even more surfaces in the future.
"Bed rails are only the first step," she said. "You can have copper IV poles, feeding tables, night tables, even mattress covers."
Copper surfaces are the latest in a slew of recent attempts to reduce the number of hospital infections–we recently wrote about a device that uses UV light to clean any germs a cleaning crew may leave behind. What do you think of these innovations? Do you think they could help reduce the prevalence of hospital-acquired infections?