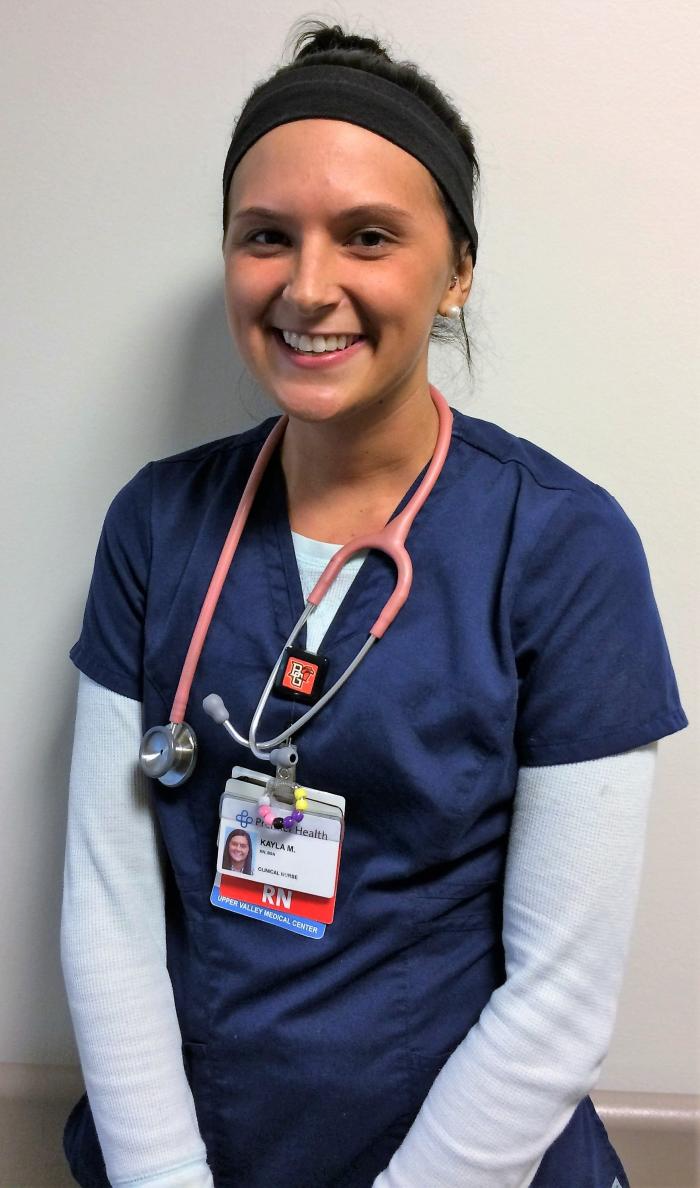 Critical care nurse Kayla Miller is being honored for her heroic response to the Dayton mass shooting over the weekend. She was at a bar in Dayton, Ohio when a gunman opened fire on a crowd of people just outside the bar. But instead of fleeing for her life, Miller stopped to perform CPR on the gunman's victims. Luckily, local authorities took out the gunman within just 30 seconds of the first shots being fired. Miller is also a winner of The DAISY Award, which honors excellence in nursing.
Find out what happened on the night of the shooting and why Kayla Miller is the definition of excellence in nursing.
The DAISY AWARD: Honoring Extraordinary Nurses
Before the mass shooting in Dayton, OH over the weekend, Kayla Miller BSN, RN was honored for her commitment to her patients. Working at the Upper Valley Medical Center in Troy, OH as a critical care nurse in the Med/Surg/Telemetry unit, Miller has a long history of going above and beyond for her patients. Many of her former patients have sung her praises over the years, highlighting her professionalism and empathy on the job.
Kayla Miller won the prestigious DAISY Award for Extraordinary Nurses back in July 2017. To be considered for the award, nurses can be nominated by anyone at a healthcare organization, including patients, family members, other nurses, physicians, other clinicians and staff members, or anyone who experiences or observes extraordinary compassionate care being provided by a nurse.
Today, there are around 3,900 healthcare facilities and nursing schools in all 50 states and 22 other countries that are committed to honoring nurses with The DAISY Award. Receiving the award can affect nurses' job satisfaction, retention, teamwork, pride, organizational culture, and lead to a healthy work environment.
Miller was nominated by one of her patients, who wrote:
"Kayla was always making sure I was comfortable and checked to see if I needed anything. She had a concern with some pain meds I was on and she expressed her concern very professionally and genuinely. We talked about the situation and I looked at it from her point of view and she also looked at it from my view. She even at one point started to cry a little because she thought she was upsetting me. I told her not to feel bad for being a real, true, caring nurse. I told her to not apologize for being great at her job. We got the issue resolved and Kayla was very respectful and professional the whole time."
Caring for Patients in the Middle of a Tragedy
Kayla Miller continues to embody excellence in nursing to this day. She was celebrating a friend's 25th birthday at Ned Peppers Bar in downtown Dayton, OH on Saturday when a gunman opened fire on the crowd outside the bar. As Miller and the other patrons of the bar heard shots being fired, everyone started running for the exits and looking for their loved ones.
Once she realized what was going on, Miller quickly left the bar and started running for safety. But instead of leaving the scene, she stopped to perform CPR on the wounded victims on the street. During the shooting, Miller recalls, "I look down the sidewalk and see just a row of bodies. People shot, some alive, some not."
Police killed the gunman with 30 seconds of the first shots being fired, limiting the number of victims, but the damage was already done. The gunman killed at least 9 people and 27 others were injured. Most of the victims were in their 20s and 30s.
After the scene, Miller stated, "I'm grateful to be able to be alive and talk to my family and friends and tell them I'm OK, but my heart breaks for these families. It's just not fair." Miller put her concerns for her fellow citizens above her own fears to help save as many lives as she could.
Scrubs Magazine is a proud supporter of The DAISY Foundation and the many healthcare providers being honored for their excellence in nursing. The entire Dayton community is grateful to Kayla Miller for her courage and bravery during one of the deadliest mass shootings in history.
Those looking to donate to The DAISY Foundation can visit their website for more information.