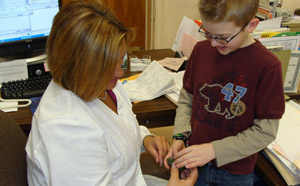 As obesity, chronic illness and the many strains of the influenza virus continue to be big health issues for America's youth, school nurses are making headlines for their growing role in the lives of students and their families.
Ryan Burke, a 10-year-old at Lowell Elementary School in Teaneck, N.J., can testify to just how crucial a school nurse can be. Ryan was diagnosed with juvenile diabetes three years ago. "Since I'm the only diabetic at my school, the school nurse had to quickly learn how to take care of me, and she also attended conferences to learn about diabetes," says Ryan.
Since first meeting Ryan, Ellen Keane, RN, CSN, APN-C, has continued to play a big role in his life, helping him to lead his school in three JDRF (Juvenile Diabetes Research Foundation) walk-a-thons. Ryan was even selected to meet President Obama at the White House this past summer as a representative of the JDRF in the 2009 Children's Congress.
"Knowing how well [Ellen] takes care of him allows both of us (especially his mother) to go to work and not worry about him all day," says Bill Burke, Ryan's grateful father. "She has kept his school life as close to normal as it can be, which is our greatest hope, other than a cure."
Scrubs Magazine caught up with Ellen about the challenges and rewards of being a school nurse, and her work with Ryan. Along the way, she debunks the common misconceptions about school nurses and gives helpful advice for new nurses. Read the interview, then see the heartwarming photo gallery of Ellen's work with Ryan.
Scrubs: How did you become a school nurse?
Ellen: I've been in the nursing profession for 35 years. I became a school nurse back in 1991, after being an RN for 15 years. It was a natural evolution as I had been working as a pediatric nurse in a local hospital. I'm also the mother of four children and it was a natural affinity to move into a school nurse role.
Earlier in my career, I focused on adults, working in various nursing positions inclusive of Hospice, Pediatrics, Coronary Care, Emergency Room, Medical-Surgical, Visiting Nurses, etc. Raising four children was wonderful, but working full-time was challenging, and School Nursing presented itself at the right time and place in my life.
I'm now completing my 18th year as a school nurse. Over the years I have gone back to school, receiving a master's of science in health education/community health, and more recently returned to school and received another master's of science in nursing as a family nurse practitioner. I believe this has added another dimension to my expertise as a school nurse, although I don't work in the role as a family nurse practitioner at school. My school district has been very supportive of student nurses rotating through my office as a clinical experience, which has been an enlightening experience for the future nurses. I've been fortunate to also work in the role of instructor within my office, and I've taught nursing at some colleges.
I'm lucky to be in a profession that I truly love. Nursing has exposed me to so many different kinds of people and conditions over the years. It has given me the gift of appreciating the life I have been given and, in turn, sharing it with my family, friends, students and patients.
Find out what advice Ellen has for new nurses.