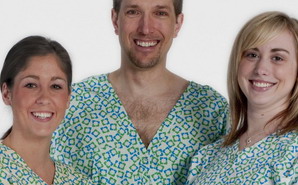 Designer Diane von Furstenberg, famous for bringing us the endlessly elegant, comfortable and forgiving wrap dress has turned her talent loose on redesigning the patient gown.

"[Cosgrove] had been begging me to do it for some time, and I ignored it," she told Cleveland.com. "And then I said 'no,' 'but why?' and 'how?' I didn't understand the value in it; I didn't understand what I could do." But then she spent time with hospital staff, hearing about the patients' needs in a gown and functionality that might work well for them. "And then it became interesting; then it became about design," von Furstenberg said. "Design is really all about function. It became a design challenge for me."
The result is a full drawstring wrap gown that snaps down the sides, offering the patient full coverage in the front and back. It has pockets on the front and back shoulder for medical devices or other objects. The Cleveland Clinic's (the hospital for which the gown was designed) logo appears in a pattern that "has beautiful movement — that's what I know how to do," she said. She then created unique color combinations that she liked for each size to make the gowns color-coded for medical staff.
"When you're a patient, you pay a lot more attention to how you look," she said. "You don't want to look or feel like a victim. I appreciate that purpose [of the gown] and the commitment this clinic has to putting the patient experience first. I'm happy to have contributed and perhaps returned a bit of dignity."
So, nurses, whaddya think? We're not sure if it's the fashion photography (or lack thereof) but we have to admit we're slightly underwhelmed. Love the function but the pattern leaves a bit to be desired. We want to know — is this a pattern you'd like to stare at all day?
Source: Cleveland Clinic