Denim is making a comeback. The original mom jean is doubling down in fashion houses across the globe and 2019 is the year to do it. In reality, the denim trend never really went away, but wearing it head to toe could have been perceived as a faux pas. But, we haven't seen denim tread the runway as much as it has lately. From patchwork denim and flared pants to crop tops, all you need to know is that it's in. Thankfully, the designers at Dickies have nailed it for us in the medical industry. So let's take a look.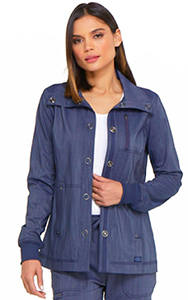 The Snap Front Jacket.
We're in love. A total take on today's denim jacket, but adapted for whatever the patient can throw at you. Pockets galore and a princess seam at the back to ensure a slimmer fit. The last thing you'll feel in this jacket is that you're swimming in it. One of the aspects of denim we were concerned about was the scratchy feel; denim can feel tough on the skin. Thankfully, the addition of rayon eliminated any rough feel.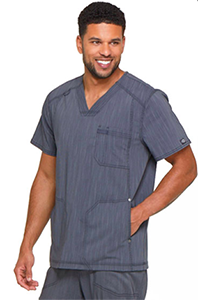 The V-Neck top for men doesn't disappoint either, and has all of the function you need while making a fashionable statement. While we wouldn't pair a denim jacket with a matching scrub top, this piece can be worn on its own with a lighter or darker underscrub.
We tried the denim look and found that it pops more with a brighter underscrub in white, and compression socks with a pattern or lighter color. For the ladies, we paired the scrubs with lighter funkier shoes, and for the guys we kept things more uniform with the color of choice. Either way, be bold and go for the denim look, and make sure you tag us on Instagram for a chance to be featured.
Both pieces can be found online at Dickiesmedical.com.
After testing out the denim look, we definitely see it as special wear. It was bold enough to make the statement, but we found ourselves switching it out for different scrubs in the Dickies line, which works awesome in between laundry days. The main reason: The denim feel is definitely full on, so we wanted to treat it like our Sunday best.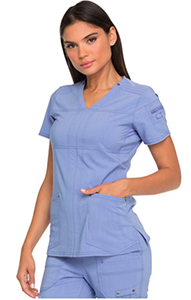 Dickies also offers a tonal "denim", which has a more vibrant look but a softer design. Between the two, we opted for the tonal in ciel blue, because it kills (perhaps we shouldn't use that word in medicine). It makes a fashion statement while remaining high quality and durable. Like most of the Dickies line, it's contemporary, and it gives somewhat of a fitted feel while allowing you room to move. For the budget conscious nurse, it's on point. You'll spend around $18 for the V neck top here, so it hits the right spot and keeps you in check for fashion season, if you care about that. Which you should.
You can shop the line and find a retailer at DickiesMedical.com.