Did you know? November is National Caregiver Month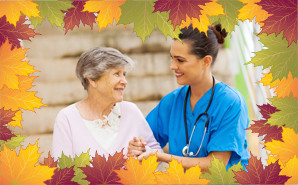 It's time to celebrate our senior caregivers!
November is National Caregiver Month, and this is the perfect opportunity to thank those who have made it a priority to provide home and health related services to the elderly, including physical and emotional support, and assistance with activities of daily living.
Family (or informal) caregivers provided services valued at $450 billion per year in 2012, according the the AARP Public Institute. In the United States, 65.7 million caregivers make up 29% of the adult population providing care to someone who is ill, disabled or aged, and 50% have full-time employment outside the home.
Family caregivers cannot always fulfill all the needs of their senior loved ones. Future numbers are staggering — the aging population 65+ will more than double between the years 2000 and 2030, increasing to 71.5 million from 35.1 million (in 2000). That explains the incredible surge of senior care industry and the need for qualified professional caregivers.
The number of Senior Home Care Agencies has grown by 40% since 2008, according to a recent Caregiverlist employment index infographic. Caregiver jobs are filled at a rate of three to six hires per week, making professional senior care one of the hottest employment sectors in the United States.
The Administration on Aging (AoA), an agency of the United States Department of Health and Human Services, works to ensure that older Americans can stay independent in their communities. Here are some of its suggested action ideas to show your appreciation for the caregiver in your life, in November and throughout the year:
Action Ideas to Celebrate Caregivers in November
Host a get-together to honor caregivers in your family and/or community.
Locate a community care center or community space and organize a Caregivers Count awareness event.
Attend local town hall meetings and ask your representative what s/he is going to do to promote legislation that will help businesses develop more family-friendly caregiver policies.
Send an e-card to a caregiver. AoA offers free e-cards for caregivers.
Post on Facebook that November is National Caregivers Month and encourage your network to acknowledge caregivers in their families and communities.
Tweet about the importance of caregivers and resources available to caregivers.
We depend on professional and family caregivers. Give a shout-out to the caregivers in your life (or yourself!) in the comments below.
Caregiverlist.com is the nation's online destination dedicated to connecting seniors with quality senior care choices. Caregiverlist.com helps seniors and their loved ones define care needs, understand the many caregiving options and costs and connect to senior home care agencies that meet Caregiverlist.com's checklist of quality standards. Caregiverlist.com is also a leading caregiving career and recruitment resource. Visit www.Caregiverlist.com.