Never in a million years would I have pictured myself as a parent of a special needs child. I guess not a whole lot of people do. I always thought that these parents were a special kind of people who had the patience and stability to care for these precious children. I still do not think I exactly fit into this category. I can however, tell you what an eye-opening experience this has been for me.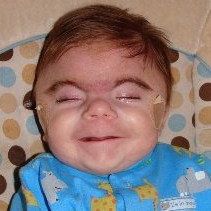 A year ago, my son was born with a rare genetic syndrome called Cornelia de Lange Syndrome – CDLS for short. Throughout his life he will experience mild to severe developmental and physical delays along with other disabilities. Although we have had to go through some tough times, I would not change this little person who has forever changed my life and has inspired me to look at life a bit differently.
Before I gave birth to my son, I was your typically ignorant-type to a person with disabilities. Not ignorant in a rude sense, but in a non-educated sort of way. When I saw someone different it was hard for me not to stare or feel pity for them. I always used the word "retarded" for slang when I thought something was not to my liking or as some say; "stupid." I now understand why I was feeling some of these things. You see, I was completely uneducated and like most people, I had never spent any quality time with someone who had a syndrome or disability.
When I come into contact with people who stare at my son or ask questions, I try not to get mad or hurt because I know that honestly; they just don't know. They just don't know that my son is incredibly smart and has the most genuinely beautiful smile. They just don't know that he has brought so much joy into my life that at times I could just cry. They just don't know how he has the best little giggle fits that make everyone in the room erupt into laughter. They just don't know how he has touched the lives of so many people he has come into contact with. And, they just don't know how happy he is almost all the time. I am not saying that it is ok for people to mock and belittle people with disabilities. I do however; understand that there is a genuine curiosity about people who are "different" from the accepted norm.
Although the past year has been a great adventure, it has been an emotional one as well. When times are tough, we must count our blessings and do the best we can. After all, we only get one life to live…so make the most of it. With that being said; thank you to my little Mason for teaching me to embrace "different."