Don't sweat it: How nurses stay cool and comfortable on the go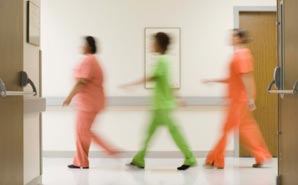 Being on your feet and on the go during a long shift means walking, bending, stretching, lifting…and sweating. Sometimes, you may finish the day feeling and looking like you ran a 5K. That's okay—you just need fabrics that stretch to accommodate movement and wick away moisture to keep you feeling fresh.
What are the ingredients for comfort?
The most popular textile for wicking and stretch is a three-way blend featuring a combination of polyester, cotton and spandex. Cotton/nylon/spandex is another common blend. The cotton offers breathability and keeps the fabric feeling soft against your skin. Synthetic fibers like poly and nylon provide added durability and keep wrinkling to a minimum. Spandex adds just the right touch of flexibility to let scrubs fit well without constraining movement. These blends are easy to care for and provide good performance.
Look better, feel better
Stretch fabrics have changed how some scrubs are designed. You'll notice a lot more figure-fitting styles. These nip in slightly at the waist and flare out to skim the hips, which makes them suitable to wear untucked over scrub pants. This means even a form-fitting top can camouflage a bit of belly bulge—especially if the top has front pockets. Moisture-wicking and flexible scrubs often incorporate knit side panels and waistbands into woven tops and pants. Panels in a darker contrasting color along the sides of a garment make you look slimmer.
Another nice thing about modern moisture-wicking fabrics is that they are more resistant to staining than cotton. This means you can generally just toss them in the wash instead of spending time pre-treating sweat stains. Just remember, any time you buy a new brand of scrubs, check the label. Following the care instructions keeps high-quality, flexible scrubs looking and feeling good over the long term.
Next: Breathable, perfect-fit top and bottom sets –>