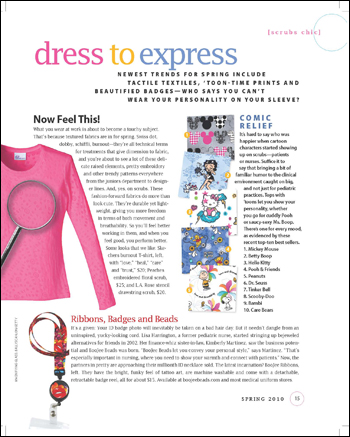 Newest trends from the Spring 2010 issue of Scrubs include tactile textiles, 'toon-time prints and beautified badges–who says you can't wear your personality on your sleeve?
Now Feel This!
What you wear at work is about to become a touchy subject. That's because textured fabrics are in for spring. Swiss dot, dobby, schiffli, burnout—they're all technical terms for treatments that give dimension to fabric, and you're about to see a lot of these delicate raised elements, pretty embroidery and other trendy patterns everywhere from the juniors department to designer lines. And, yes, on scrubs. These fashion-forward fabrics do more than look cute. They're durable yet lightweight, giving you more freedom in terms of both movement and breathability. So you'll feel better working in them, and when you feel good, you perform better. Some looks that we like: Skechers burnout T-shirt with "love," "heal," "care" and "trust," $21; Peaches embroidered floral scrub, $25; and L.A. Rose stencil drawstring scrub, $20.
Ribbons, Badges and Beads
It's a given: Your ID badge photo willinevitably be taken on a bad hair day. But it needn't dangle from an uninspired, yucky-looking cord. Lisa Harrington, a former pediatric nurse, started stringing up bejeweled alternatives for friends in 2002. When her finance whiz sister-in-law, Kimberly Martinez, got a peek, she saw the business potential and BooJee Beads was born. "BooJee Beads let you convey your personal style," says Martinez. "That's especially important in nursing, where you need to show your warmth and connect with patients." Now, the partners in pretty are awaiting a major milestone at the end of the year: their millionth ID necklace sold. The latest incarnation? BooJee Ribbons—ultra durable, machine washable and super functional with a detachable, retractable badge reel. Our favorites have the bright, funky feel of tattoo art and sell for about $15. Available at boojeebeads.com and most medical uniform stores.
Comic Relief
It's hard to say who was happier when cartoon characters started showing up on scrubs—patients or nurses. Suffice it to say that bringing a bit of familiar humor to the clinical environment caught on big, and not just for pediatric practices. Tops with 'toons let you show your personality, whether you go for cuddly Pooh or saucy-sexy Ms. Boop. Not sure which character suits you best? There's one for every mood, as evidenced by this list of recent top-ten best sellers:
Mickey Mouse
Betty Boop
Hello Kitty
Pooh & Friends
Peanuts
 Dr. Seuss
Tinker Bell
Scooby-Doo
Bambi
Care Bears