Eating on the go: Product review for nurses
*Disclaimer: This product and containers were provided free of charge. The blogger is in no way affiliated with balanceddaylunchkit.com. All opinions are of his own, and is under no obligation to promote or defend the product in question.*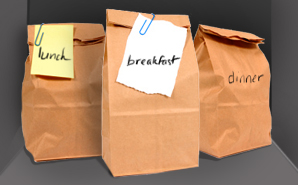 As everyone knows, I'm a commuter student with lunch-packing challenges. (Read my previous post here on 'Packing my bags') I noticed in the Scrubs Magazine fall 2011 print edition a page on getting organized (page 16 if you're interested). We also have a page dedicated on our website to 'The Organized Nurse'.
I read about the product 'Three Squares in One'. They have a 'lunch bag' of sorts they call the '12-Hour Shift Bag'. I found it so intriguing I contacted the company to see if I could try it out. The were nice enough to provide me with the bag as well as the food containers that fit inside! Needless to say I was acting like a kid in a candy store.
I have always promoted healthy eating. Bring a lunch and leave the money at home. So I've been trying to find a lunch bag that can do that very thing, but can provide me with meals over the course of the day. So the 12-Hour Shift Bag seemed like the answer to all my woes.
After using (and abusing) it for work and school over the past couple weeks I'm ready to share my findings. It definitely touts a large capacity for storing any and everything. It has two main compartments that are individually insulated. So you could potentially have one 'hot' and one 'cold' meal. It actually has the two sides labeled 'One' and 'Two'. I initially found that entertaining, but then I utilized the labeling more than I ever thought I would whenever I would go hunting for my food.
The containers they provided fit perfectly (as they should I guess). They had a nice seal-locking mechanism on them that ensured your food's freshness. Something I really liked. Especially with the wear and tear I gave it. My food never spilled.
I loved the little zippered 'compartments provided on each 'flap'. You could store napkins, utensils or even pre-packaged snacks in those nifty pockets. And once again they were still insulated. Within each 'side' there were small elastic Velcro straps provided. I later realized these could be utilized to secure containers as well as secure and cooling device you may utilize (like the blue ice cooling blocks). In addition there was also an additional compartment with a magnetized flap for additional storage space.
It definitely held up to the rugged wear and tear. I swung that thing over my shoulder and across my back numerous times throughout a single day. The adjustable strap was key! And the straps were attached to the main unit by metal clasps, which was nice. This way the strap doesn't tether away from the main unit.
Space was not an issue. There was plenty of room to bring just about anything. The two main compartments, the zippered pockets in the flaps, and then the additional zippered outside pockets on both sides made for easy portability.
While it was a large bag, it seems that you could compress or collapse one side of the bag if you wanted to, if you were only needing one side for those shorter days (or shifts).
Here are my bulleted highlights of this product:
PROS:
Ample storage space with deep pockets
Well compartmentalized
Zippered flap for utensil storage
Individual insulation is great for bringing hot & cold meals
Ability to secure items within the compartments
Option to collapse one side to only utilize half the bag
Strong and sturdy adjustable carrying strap
Aesthetically pleasing for both men and women
Labeling of each side compartment
CONS:
Very bulky at times to carry
When fully pack – can be quite heavy
Overall grade: A
I don't think there is a 'perfect' lunch bag out there, but this comes about as close as you can get. It has enough options available to suit just about any and every need for those nurses looking to pack their meals for the long shift. The name of the product says it all. I highly recommend this product.
I would like to extend a special thank you to Kathi Blackwell from Balanced Day Bags Inc. for her generosity in providing this product.
*Disclaimer: This product and containers were provided free of charge. The blogger is in no way affiliated with balanceddaylunchkit.com. All opinions are of his own, and is under no obligation to promote or defend the product in question.*