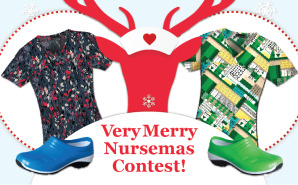 Let us help fulfill your scrubs wish list this year—enter to win our "Very Merry Nursemas" giveaway!
Just visit Cherokee, Dickies or HeartSoul Scrubs and select five of your favorite scrub sets and two pairs of shoes from any of the three sites. Then, enter the links for your top picks into the form below. It's the easiest wish list in holiday history, and one lucky nurse will win all of his/her selections, plus one Littmann stethoscope and a set of Cherokee holiday accessories!
So gift yourself this year and enter to win! Because everybody knows that nurses are at the very top of the "Nice" list.
Sponsored by Cherokee Uniforms