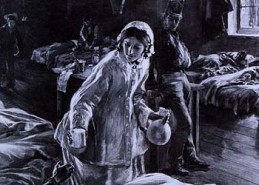 We've all been regaled with stories about Florence Nightingale, the most recognizable nurse in the American consciousness and throughout the world. Here are the stories behind some other famous nurses, some you may recognize, others you may have heard about but will be surprised to find were nurses at all.
1. Mary Todd Lincoln
2. 'War's End Kiss' Nurse
3. Walt Whitman
4. Edith Cavell
5. Lillian Carter
6. Margaret Sanger
1. First Lady Mary Todd Lincoln was the very first wife of an American president to carry the title First Lady. She was quite a controversial figure during her time and biographies have proliferated about her through the decades. What is often overlooked in these many accounts is her contribution as a volunteer nurse in Union hospitals during the Civil War. She also helped freed slaves by giving them clothing and treatment and supported her husband in the creation of the Proclamation of Independence.
Continue to the most kissable nurse in the world…