Four Key Effects of the Houston Floods
She said: "The dynamic is kind of different because in New Orleans the entire city was devastated.
"Here, you have a situation where some neighbourhoods have suffered devastation and some haven't. Houston is a large and spread-out city. It's just a different situation from place to place.
"There is talk of bringing in some trailers but that's all being worked out at this point – for a lot of the people it just remains up in the air where they're going to go.
"A lot of people are low income and don't have the means to just up and go."
The New Yorker magazine's Malcolm Gladwell argued that after Katrina, lower-income people who were displaced got new chances at improved lives. Former prisoners who went to new neighbourhoods after being released were significantly less likely to re-offend compared with those who went back to their old neighbourhoods.
And 40,000 people moved to and stayed in Houston, he said, where social mobility was much higher than in New Orleans. A child born in the bottom fifth of US income in Houston had a 9.3% chance of making it to the top fifth by the age of 26, compared to a 5.1% chance in New Orleans, one of the worst in the country.
Environment
Fifteen trillion gallons of water have so far fallen on Houston – more than twice as much as fell on New Orleans during Hurricane Katrina.
There are signs of ways in which environmental changes may have made the hurricane worse – the warmer air gets, for instance, the more moisture it can hold in it.
And the storm, in its turn, has had significant consequences for the local environment.
The water was contaminated in places and, as it began to recede, residents noticed rubbish, broken road signs and even sewage lying in it.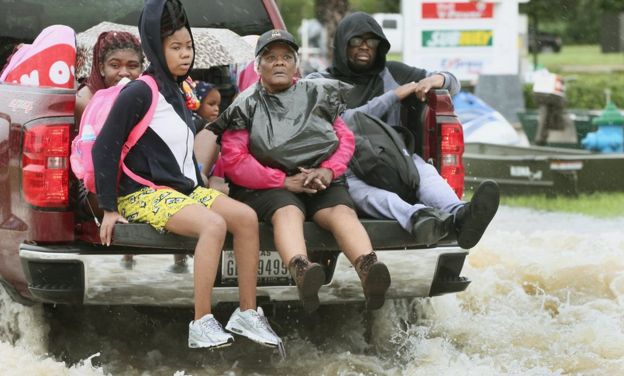 Some people were concerned on Monday as people in eastern Houston reported an "unbearable" smell coming from petrochemical industry areas, that was causing headaches, sore and itchy throats and itchy eyes in residents who were trapped by flooding. A few hours later, it was reported to have been caused by a chemical spill from a ruptured pipeline.
SEE MORE IN: