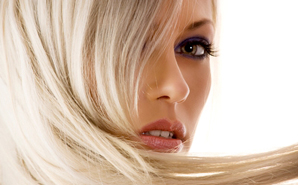 Registered Nurse and hardcore blonde Karon Gibson describes her own makeover…and shares her perspective on why many nurses nationwide could use a makeover, too.
Scrubs: Tell us about your makeover.
Karon: I went from black hair to blonde and started a special skin regimen. I love the results.
Scrubs: Why the radical change?
Karon: I didn't go straight from black to blonde overnight! When I was in my late teens, my neighbor streaked my hair with blonde highlights and I was immediately asked out by a guy I had worked with for months. I thought I'd go that route with my hair now that I'm an adult and getting some "white natural streaks." I started off by highlighting my hair as a progressive change to hide the beginning of the gray. It worked so well that I trusted my stylist to change the color to blonde, and she did so without any damage.
Scrubs: How did it feel going from dark black to pure blonde? Did it inspire you to do more?
Karon: As soon as I went blonde, I started receiving compliments on my hair and was even told it made me look younger. I just found a chemist creator of organic skin creams and a noninvasive way to diminish lines and collagen drooping of the eyes. As president of a health care agency and a TV host and speaker, I need to make sure I look as good as I can. But when I look at my nursing colleagues, I realize that we nurses across the board need to take more notice of how we look. We look very different than the women in other business ventures.
Scrubs: Tell us how nurses differ in style from a typical corporate management type.
Karon: Women in business situations tend to dress well and find the time for facials, hair and nail treatments. Nurses, however, work very busy and tiring schedules, and may not feel we can find the time or the money to do these things. Even so, I'm disappointed to see hospital nurses looking unkempt. We used to be so proud of our clean, crisp white uniforms and caps that distinguished us from the ancillary personnel. Now, you often can't tell which are the professional nurses and which aren't.
Scrubs: Nurses look great when they express their individuality, though. We see so many wonderful new print scrubs – some funny, some very sophisticated. So why do you think nurses can look less "professional?"
Karon: I think it's more about how they feel than how they look. I attend some seminars in business and others in nursing, and I notice a distinct difference in the appearance of most of the women. Even when not wearing scrubs, the nurses appear to wear less business-like outfits and comfort seems more the norm.
Scrubs: What beauty makeovers do you recommend for nurses who just feel too exhausted or broke to get facials or hair treatments?
Karon: Nurses could start by just taking notice of how dress and makeup affect our professional demeanor and appearance. It's no secret that when you look a little better, you can feel more confident. Also, many beauty treatments like hair coloring and facials are available at a lesser cost today than they were even six months ago. And you can start small like I did…ask a neighbor to streak your hair with blonde highlights!
Karon Gibson, RN, CCM, is the producer and host of the TV show Outspoken, shown in prime time for 28 years in Chicago and 67 suburbs and communities in Illinois, Los Angeles and Santa Monica. She's also the CEO of AmericaNurse and the coauthor of Nurses on Our Own (St. Martin's Press, Avon and iUniverse). Email her at karontv@yahoo.com or asktvnurse@yahoo.com.