From Night shift Nurse To WBFF Pro & Fitness Model
Dear Nurses,
My name is Lauren Drain Kagan (@LaurenDrainFit on Instagram) and I wanted to share my personal struggles & success story of becoming a professional fitness model all while working a stressful night shift nursing job. Both my peers & personal training clients have asked me countless times how I did it, how I dealt with all the struggles related to working as a nurse while working the night shift, while having a "life" or being a spouse or etc. How did I find the time to work out, how did I keep my diet on point, how did I deal with stress at work or unhealthy temptations? Well, here is how I did it – and I hope many of you can relate to my own experiences.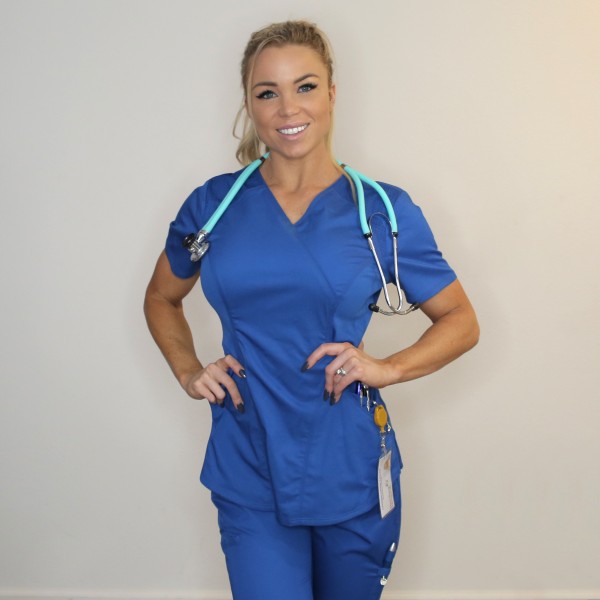 I have been a registered nurse for almost 9 years now. I have been in healthcare since I was 15 years old working as a secretary, a telemetry technician, a CNA, and eventually, I graduated with my BSN in nursing. When I turned 21, I started working as an RN on a medical/surgical telemetry floor and fell in love with Cardiology. I went on to work on a cardiac step-down unit learning some very advanced cardiac technology and skills such as how to manage patients with L-VAD (left ventricular assisted device that does the heart pumping even if the patient is in a V-fib electrical rhythm). I cared for cardiac/cardiothoracic surgery patients for about 7 years when I decided to expand my knowledge and skillset to the RN Float position. I am ACLS/AED certified and have been for 8 of my 9 years of nursing. I have worked every shift: days, evenings and eventually settled for nights. I have worked as a charge nurse on all the units I've worked on including when I floated. I wanted to share my story of how my nursing career led to a lot of stress in my life and how I decided to overcome it. I wanted to improve my physical health, my energy levels, aesthetics and overall happiness.
When I turned 28, I was faced with several life decisions: do I go back to school to advance my nursing career? Do I go on to start a family with my husband whom I have been married to for a year? Do I continue to work full-time night shift for years to come? Do I succumb to the natural stresses and influences that my job generates? I decided my priority became my health and my physical wellbeing. I noticed all too often that the "life of a nurse" seemed to have somewhat of popular tendency: go to nursing school (where oftentimes health and stress management takes a backseat), find a job (with ANY shift or ANY floor you can find), settle down (with your significant other), advance career further (become a PA, APRN, etc) and/or start a family. This pattern generally did NOT include making health a priority for the nurse. Instead, I witnessed myself and my fellow nurses stressed, overworked, with little to no time for breaks, malnourished, working long hours on very little sleep, low energy levels and making tons of bad food decisions given the circumstances and work environment. I, myself, fell victim to all of the above and woke up one day feeling like I was on a downward spiral. I was extremely stressed, unhappy with my daily diet choices, my physical appearance and everything else you could think of.
Mind you that during all of this I was still considered a very "active" and healthy person by many. I mean I had run three Spartan Races, 2 Tough Mudders, multiple 5Ks and I did CrossFit for some 3 years even partaking in a few local competitions. Even though many saw me as being strong & fit, I was far from "healthy". Over the years I had made little to no improvements to my eating habits, stress management, sleep schedule, portion control or etc. I was simply working out to try and offset all the poor decisions I was making on the daily, and it had finally caught up with me. During the holiday season alone I gained some 12lbs. I decided I needed to make some serious lifestyle changes.