Storyteller, musician and humorist Garrison Keillor (of public radio's A Prairie Home Companion) wrote a poignant tribute to nurses in the Spring 2010 issue of Scrubs (you can find Scrubs Magazine at a scrubs retailer near you!).
We here at Scrubs are not only longtime fans of Lake Wobegon (where "all the women are strong, all the men are good looking, and all the children are above average") but also of The Writer's Almanac, in which Keillor imparts brief facts and poetry related to each day's date.
Here are some entertaining references to nurses that we've selected from the Prairie Home Companion and The Writer's Almanac. Listen to them, then share them with your friends. Some are truly inspirational, some are borderline silly, but they are all entertaining!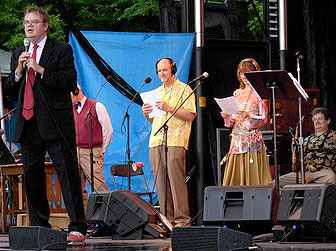 Soon after his operation, Garrison welcomed his nurses to his radio show and talks about the silver lining that can be found in all situations.
Click the "play" button to listen to the snippets from each show.


Introducing his nurses [1 min].
[audio:https://scrubsmag.com/wp-content/uploads/Garrison-Keillor-Post-Operation-2-Oct-2001.mp3|titles=Garrison Keillor Welcomes Nurses to Prairie Home Companion]
He wakes up after his operation and meets his "Guardian Nurse" [2 min 48 sec].
[audio:https://scrubsmag.com/wp-content/uploads/Garrison-Keillor-Post-Operation-Oct-2001.mp3|titles=Garrison Keillor Meets His Guardian Nurse]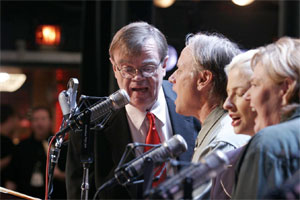 Garrison and Prairie Home Companion friends do a shtick to celebrate National Nurses Month.


"You need nurses more than you'll ever know." [3 min 34 sec]
[audio:https://scrubsmag.com/wp-content/uploads/Garrison-Keillor-National-Nurses-Month.mp3|titles=Garrison Keillor National Nurses Month]