Germ warfare: What can you do to help battle hospital-acquired infections?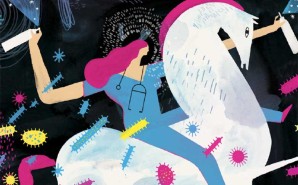 As a nurse, you see all too closely the effects of our ongoing battle with hospital-acquired infections (HAIs) and antibiotic resistance. And the stakes have never been higher.
In April, the World Health Organization issued a global surveillance report warning that antimicrobial resistance is "so serious that it threatens the achievements of modern medicine." Without urgent action, the authors warn, "we are heading for a post-antibiotic era, in which common infections and minor injuries can once again kill."
In the Fall 2014 issue of Scrubs, we armed you with evidence-based steps to take at home and at work to prevent the spread of infections and curb antibiotic resistance. Now, check out more on our war against germs…and what you can do to help win it.
Germs, germs everywhere:
Winning the war at work and at home:
Wash 'em well:
Achoo! Avoid the flu:
Arm yourself with knowledge:
For more information, check out: