Gorgeous hair from the kitchen cupboard?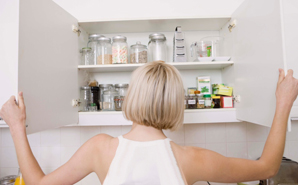 Many of my clients and friends complain about how expensive it is to keep up their hair. They mistakenly think that high-priced products are the only way to deliver celeb-status locks. I tell them there are plenty of little things we can do to keep hair healthy, shiny and beautiful—without spending a dime!
Yes, you'll still need shampoo and conditioner, but you'd be surprised how much you can do with products you already have in your kitchen cupboard. The following treatments are all tried and true—I've been using them on my own hair for years.
Strength training

: This is a great mixture to strengthen hair and remove split ends. Mix 2 teaspoons mayonnaise and 1 teaspoon coconut oil. Work through dry or damp hair and leave on for 20 minutes. Rinse thoroughly with shampoo and conditioner.

Pump up the volume

: This treatment is ideal for curly hair. Combine 3 tablespoons deep conditioner and 3 tablespoons Epsom salt. Microwave for about 15 seconds and work into hair from scalp to ends. Leave on for 20 minutes and rinse out with warm water.

In living color

: This treatment will prolong highlights and keep hair bright and shiny. Blend 1 egg, 1 tablespoon olive oil, ¼ of a peeled cucumber and ½ cup Epsom salt in a food processor. Spread the mixture evenly through hair and leave on for 10 minutes. Rinse with warm water.

Weather the storm

: This treatment combats frizz, breakage and other damage caused by climate change. Combine 1 egg yolk and 1 teaspoon virgin olive oil and apply to dry or wet hair. Leave on for 15 to 20 minutes, or a little longer if your hair is in really bad shape. Wash hair with a moisturizing shampoo, then condition.
With all the money you'll save on products and treatments, you can splurge on a great deep conditioner. I'm obsessed with It's a 10 Miracle Hair Mask, which not only deep-conditions, but also protects from thermal damage.