Nurses bring Halloween to their patients
Being diagnosed with a new illness and coming to the hospital can be stressful events for a family. The Child Life Program at St. Jude Children's Research Hospital, in Memphis, TN, seeks to minimize that anxiety as much as possible. Child Life specialists organize special events like the trick-or-treat trail during Halloween to offer families ways to celebrate holidays with their children in order to help normalize the hospital environment.
The Halloween festivities allow patients to enjoy the holiday as they would at home. It's the one event each year in which all hospital programs and departments participate in a fun day with the patients and families—making it a morale-boosting activity for staff as well.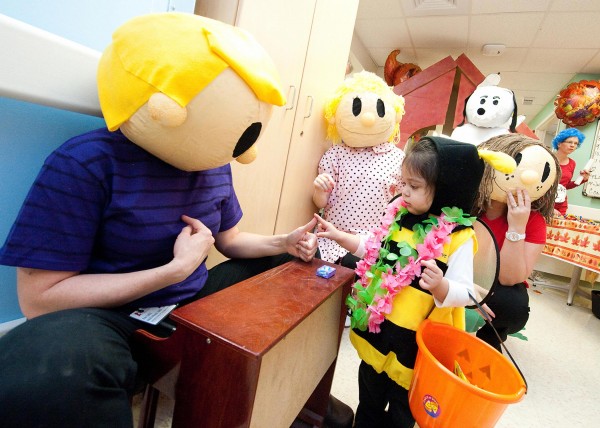 Click through these pics from the 2009 trick-or-treat trail to see why St. Jude Hospital is so excited about their 2010 event this week!
Nurses talk about the patients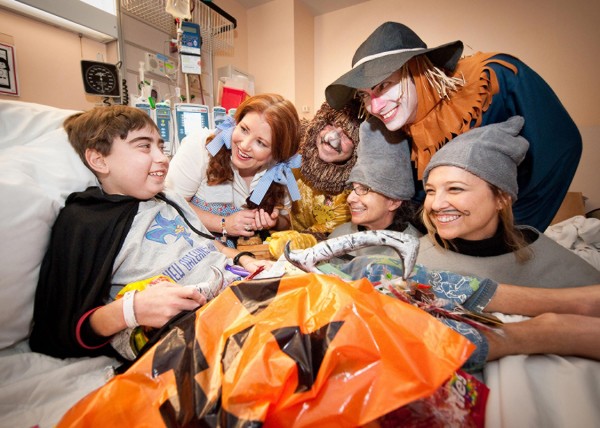 "This event brings so much happiness and excitement to our patients," says RN Michelle Haimes, Procedures Manager at St. Jude Children's Research Hospital. "Many of our patients are away from home so they don't get to participate in the traditional door-to-door trick-or-treating. The patients enjoy dressing up and trick-or-treating through the various departments. They love seeing their nurses and doctors dressed up in costumes, too. It's one day that everyone gets to act silly and have fun. The decorations and costumes are amazing. You can tell the hard work has paid off when you see the smiles on the patients' faces."
"It's a lot of fun for the kids, the parents and us," says Surgical Services Nurse Lee Jackson. "It's especially great for the children who are confined to the hospital. It makes them feel like they're not missing out on anything."
From a family's perspective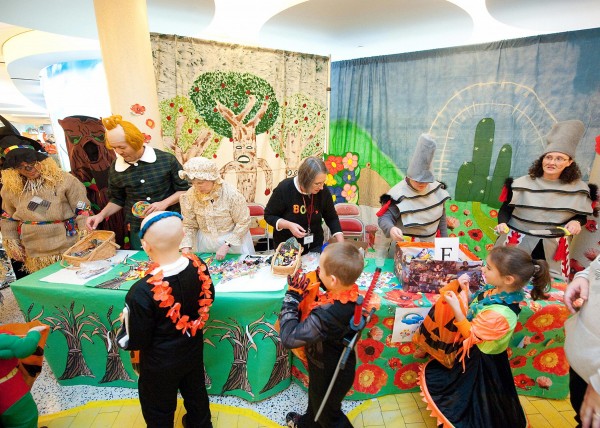 Six-year-old Ellen Taylor, who is being treated at St. Jude for non-Hodgkin lymphoma, will be trick-or-treating this year at the hospital with her brother, Nick, 4. This will be Ellen's third Halloween at St. Jude. Ann Taylor, Ellen's mother, is grateful for the experience.
"Ellen will be dressing as Hannah Montana," Taylor says. "She has the whole outfit—from wig to boots. Nick wants to be a green zombie. [Ellen] gets so excited. She loves to go through the stops and figure out who is who and find all of the people she knows.
"We didn't know what to expect our first year trick-or-treating at St. Jude. The kids just showed up in costumes, and we were just astonished at how big an event it was. Visiting all of the stops is always one of Ellen's goals, but we never make it all the way through from start to finish. There is so much to see that you can't do it all. We look forward to it every year. It's a safe environment for the kids. The hospital goes out of its way to make sure the kids have a great time and that it's a special day for everyone.
"Last year, Ellen was Wonder Woman and Nick was Robin [from Batman]," Taylor continues. "One of the clinic areas had a superheroes theme. On the wall it said, 'Who is your favorite superhero?' I took a picture of Ellen and Nick with that, and it's still one of my favorite pictures of them.
Nurses reveal their favorite memories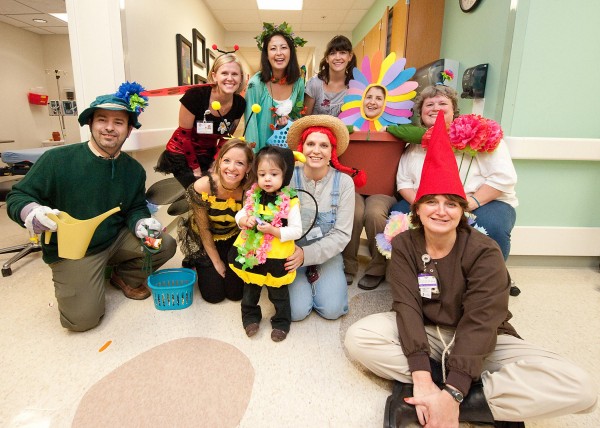 "My favorite memory is from 2005 when our department won the Most Child Friendly Award for our Dora the Explorer theme," says Haimes. "We worked very hard on the decorations and costumes. When patients walked through our unit, they felt like they were in a live Dora the Explorer story. Many patients thought we were the real characters and it was such a fun experience. It's one I will never forget."
Nurse Jackson says that her favorite memory is when one of the departments at St. Jude put on the King Tut exhibit as its theme. "They had interactive activities for the children and even a choreographed dance routine with a band. The kids were so excited and dancing along to the music."
Patients go fishing for treats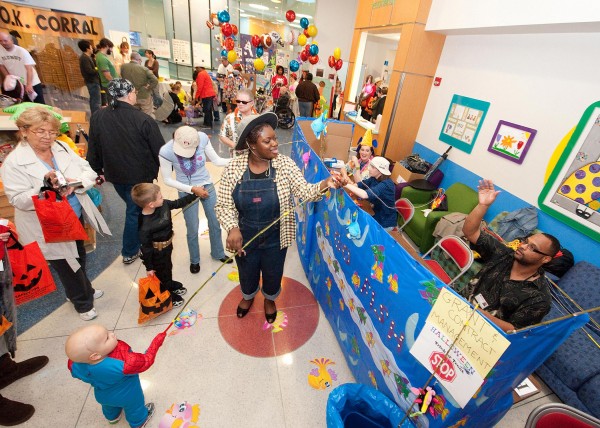 "This year, our theme will be Treasure Box," says Haimes. "We wanted to think of something creative that the patients would enjoy. After having a procedure, patients can pick a toy from a treasure box we keep in the area. Patients enjoy this, so we decided this would be a great theme. Also, it gives our staff a wide range of options when selecting their costumes. Our goal is to make the Procedure Area look like a treasure box full of toys. The decorations will be colorful and will include various toys, games, balls, etc., and we're dressing like the toys that are offered in our treasure box."
The staff turn the hospital into an O.K. Corral
Trick-or-treaters go 'wild horses' for candy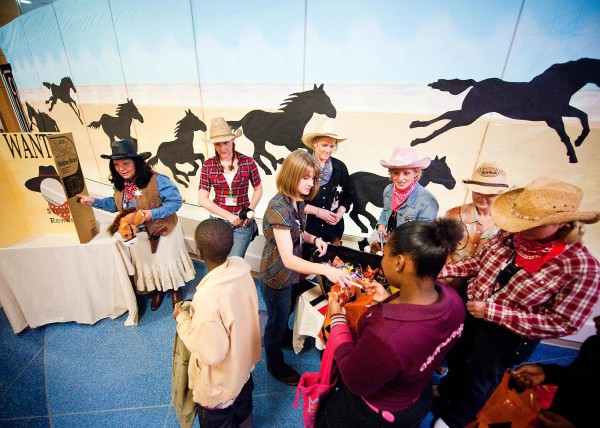 "Picking themes for the Halloween event turns into a big competition among the departments," confides Jackson. "When we pick our themes, we try to find things that are going to win over the kids. We look at what's popular that year, what will capture the kids' attention and what we can do that will allow us to incorporate interactive elements. For the O.K. Corral, the area was decorated as the Old West. We had little stick horses and sheriff badges that we could hand out to patients and their siblings. We also had a 'Wanted' poster and the kids had to find the employee who was dressed as our outlaw."
Organizing your own hospital event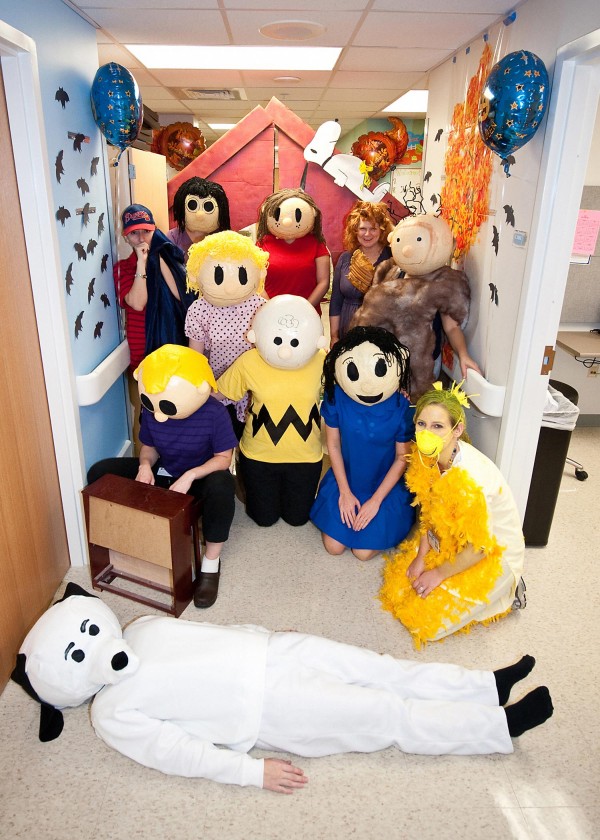 Thinking of organizing an event at your hospital? Rules are a must! Here's what's on the 'good behavior' clipboard at the St. Jude Hospital trick-or-treat trail event:
Participation rules
Staff must register their booths' themes in advance and choose whether they want to be included in the judging contest.
Themes must be appropriate for all ages.
To provide a variety of experiences for the children, themes are not duplicated.
In advance of the event, there is a mandatory safety meeting to ensure all safety regulations are met during the celebration.
All participants are briefed on infection-control and safety policies.
Decorations and displays must adhere to the hospital's safety regulations.
All candy should be newly packaged and individually wrapped.
No hard candy, no candy with nuts or peanut butter, and no homemade treats can be distributed.
Animal crackers and similar snacks are welcomed for young trick-or-treaters.