Happy Un-Thanksgiving Day for nurses?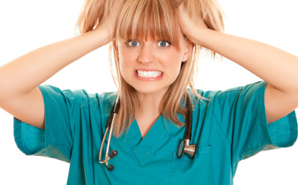 If you follow Scrubs magazine on Facebook, you know that we like to ask our readers questions. Often, we get several dozen great responses. When we asked our fans what they were NOT thankful for this season, we got hundreds of replies. Okay, so maybe we're encouraging people to gripe at a time when our culture says everyone should be feeling grateful. But we think it's only fair that nurses should have a forum where they can air their complaints. They spend enough time listening to unhappy patients, family members, administrators and doctors whining at work every day. We know our readers are thankful that Scrubs magazine is one place where they can tell it like it is!
Here are the top 35 things nurses are NOT thankful for in 2012:
Awful Working Conditions and Resource Shortages
Just Part of the Job Description
Patients and Their Families
Coworkers (Nurses, Doctors and Admin)
Bureaucratic Bungling
Whew…looks like nurses have a long list! We're just glad that they continue to get out of bed and go to work day after day—we couldn't have healthcare at all without them.
Have you thanked a nurse today? We think you should.
Thank you to our Facebook fans for contributing to this article: Alice Hudson, Grace Clark, Amy Hernandez, Amy Gasper, Shelly Borneman Barwick, Mary Sondag Fields, Jennifer Pierson Murphy and Solana RM.