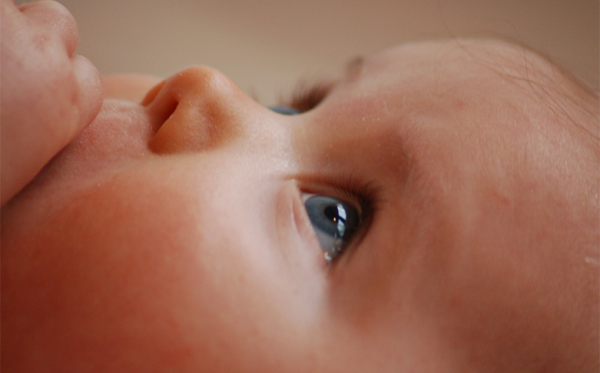 Millions of children throughout America deal with eye issues, such as nearsightedness, infections, and eye injuries. During the month of August, the American Academy of Ophthalmology helps raise awareness throughout the nation about the importance of eye health and safety for children.
Healthy Vision Practices for Kids
Vision conditions of children that go ignored could damage their eyes for life. Having bad eyes can limit a child's social, academic, and athletic success. There are too many fun and meaningful parts of life children should be able to see clearly. They should not have to grow up having unhealthy eyesight. Taking proper care of the eyes and vision during all stages of childhood development is extremely important. The following vision tips for kids of all ages will ensure a lifetime of strong eyesight.
Infant Vision: From the time of birth to 2 years of age, the eyes are in their first stages of learning to focus, see clearly, and send visual information to the brain. During this time, eye-hand coordination and depth perception skills begin to develop as babies begin to crawl and explore their environment. It is crucial for infants and babies to have healthy eyes so they can begin interacting with the world. Spotting vision issues as early as possible will avoid problems with eye development.
At 6 months old, parents should take their babies for their first comprehensive eye exam. In addition to the initial eye exam, parents can promote positive eye development by engaging their children while moving around the room, providing them with toys to promote eye-hand coordination, and playing visual memory games.
Preschool Vision: From 3 to 5 years of age, children begin interacting with other children and learning hands-on developmental skills. In preschool, children use their visual abilities while doing crafts and group activities that prepare them for reading and writing in school. Coloring with chalk or finger paints and reading aloud are fun and creative ways to help children strengthen vision.
Parents must make sure their child's eyes are developing properly by looking for signs of vision issues, such as crossed eyes or difficultly recognizing shapes and colors. Other signs include sensitivity to light, squinting, and sitting too close to the television. Children of preschool age often don't tell their parents about eye issues, and over 10% of preschoolers have problems with vision. It is important for parents to observe their little ones and take them for eye examinations.
School-Aged Vision: From 6 to 18 years of age, children use their eyes to learn fundamental concepts that will help pave the way for college and adulthood. These days, most children spend hours learning on computers or using mobile devices. Reading textbooks and homework assignments are necessary the entire time children are in school. Healthy eyes will help children excel throughout their education and enjoy a full social life.
Parents should communicate with their children to see if they have trouble seeing. Learning difficulties associated with poor vision can be similar to the symptoms of Attention Deficit Hyperactivity Disorder (ADHD). Children are often diagnosed with a learning disorder when they actually have vision problems in need of correction. Nearsightedness, astigmatism, and farsightedness are common in children of this age. Getting children professionally examined by an optometrist and fitted for eyeglasses or contact lenses can enhance their eyesight during their formative years.
Raising Awareness About Children's Eye Health
This August and all throughout the year, Prevent Blindness America provides information to raise awareness among parents across America about children's eye health. Prevent Blindness America established the National Center for Children's Vision and Eye Health to provide the best vision care and health for children. Vision screenings, eye tests, and optometry services are some of many services offered by Prevent Blindness America that help strengthen and prepare the nation's youth for a bright future.
For more on children's eye health, check out our article, "5 Ways to Keep Your Children's Eyes Healthy."