Sunny, lemony, bright canary—there's just something about yellow that makes you feel optimistic. Spring and summer are the perfect seasons to wear this color in scrubs. Here are three ways to use yellow in your work wardrobe.
Color Combinations
One of the great things about yellow is that it plays well with others. This means there are lots of color combinations you can use in solids or prints. Try a pale yellow scrub top with chartreuse green faux-trouser scrub pants from Skechers. To combine yellow with purple or lavender, choose a warmer shade. For a knockout combination featuring royal blue, pick a yellow that is almost gold.
Layers
Like white, yellow can be a little see-through. Consider layering a T-shirt underneath for a little more coverage if your scrub top is a thin fabric. Choose a pale hue to layer under yellow to keep the T-shirt color from showing through. You could also layer a yellow warm-up jacket over a darker color to make things interesting.
Maybe you've always felt that yellow just isn't your color. Layer a deep V-neck scrub top in yellow (like a tunic top from Cherokee) over a long-sleeve T-shirt in a neutral color like white or cream that does complement your skin tone. As long as the color that is directly next to your skin at your neckline and forearms looks good on you, the top layer of yellow will work just fine.
Prints
With a color as light and bright as yellow, there's a risk that you'll end up looking like Big Bird if you go with solid yellow scrub tops and pants. So, it's a good idea to mix in some prints that feature yellow along with other colors. For example, you might pair the brand-new Cat Walk leopard print from Baby Phat with a solid black scrubs pant for a "purrfectly" sophisticated look. Or you can lighten things up with the girly Simply Provence patchwork top over a pair of lemon yellow bottoms.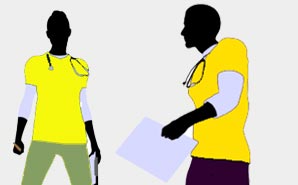 Do you feel like dressing to match the sunshine? Tell us about it!
Sponsored by Cherokee Uniforms