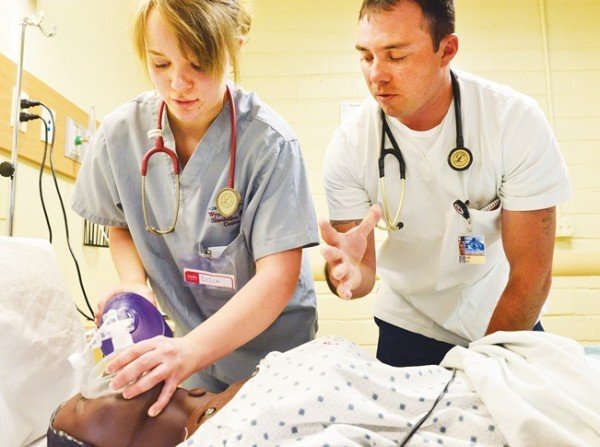 High school students interested in entering the world of nursing spent this summer at a camp hosted by George Mason University in Virginia. Professors at George Mason University designed this camp to educate high school students about everything involved in the nursing profession and provide them with hands-on nursing experience.
The camp also helped the students realize that many things they thought were a part of a nursing career weren't true at all. The real hands-on experience helped the high school students expand their medical knowledge and decide whether nursing was the career path they wished to take.
Camp Activities: A Look into the World of Nursing
Most students in high school have only experienced the world of nursing to the extent of watching their school nurse or being treated by a nurse in a doctor's office. George Mason University's summer nursing camp gave high school students the opportunity to participate in activities that real nurses do every day. Group projects and simulated medical tasks helped the students become familiar with the core roles of nursing and define their interest in the profession.
The camp introduced students to important nursing skills, such as taking vitals and checking blood pressure, in the camp's nursing simulation laboratory, where they were able to work with a simulated "dummy" patient. Students were able to carefully observe common medical procedures and talk face-to-face with medical professionals across a variety of specialties.
Included in the camp's nursing staff were nurses with specialties in forensics, as well as nurses that worked in third-world regions of Sub-Sahara Africa. Students were able to ask the professional nurses about their personal experiences in nursing school. By speaking with modern-day, hardworking nurses, students learned what it really takes to land a career in nursing and how to perform the important role of a nurse in the most practical way.
In addition to the simulation laboratory, the students learned nursing skills and techniques through work experience at local hospitals near George Mason University. While at the hospitals, students watched the action while nurses in busy units carried out critical daily tasks.
Students were also exposed to clinical settings, in which they witnessed experienced nurses communicating with real patients about ways to better their health. This facet of the camp demonstrated the importance of being able to sit down with patients and talk to them with care. Nurses share their extensive knowledge of health with their patients in a way that is both kind and educational. Seeing patients receive genuine care from nurses was one of many rewarding features of the nursing camp program.
Learning About the Importance of Nursing
After completing George Mason University's official nursing summer camp, high school students could see the many different career options a degree in nursing could offer. A degree in nursing could take the students to careers in hospitals, healthcare management, policy reform, international health care, and more.
As the healthcare industry is constantly evolving with innovations in medical technology, students received up-to-date information about the current climate of the nursing profession. According to Christine M. Coussens, an associate dean of the university's College of Health and Human Services, the role nurses play in the healthcare industry is becoming more significant. More nurses are working as strong leaders who are responsible for the direct delivery of healthcare to their communities.
It isn't an overstatement to say that nurses are critically important professionals when it comes to the health of our communities. With every activity at the nursing camp, the high school students considering continuing their education in a nursing degree program were made well aware of the important role nurses play in society.
For more on nursing education, check out our article, "How to Survive Nursing School: 10 Essential Tips."v