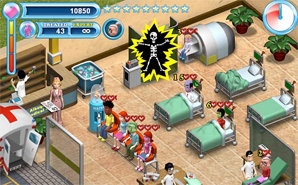 If you like to relax with video games, check out Hospital Hustle.
The star is Sarah, a recent nursing grad who can't get a job in California, so she hightails it to a small hospital in Arkansas.
Sarah runs around doing everything from bringing prescriptions to different triage centers to taking X-rays, administering treatments and assisting in the operating room.
See if you can treat all the patients (and save their lives), run the ER on a budget and outrace malpractice suits.
Chances are you're going to be good at this game. Or give it to your kids—maybe they'll have a better appreciation for what your day is like!
You can download Hospital Hustle here (available on Mac and PC).
This article—along with many other great ideas for nurses on finding ways to relax—was originally published in the 2010 Winter Edition of Scrubs Magazine, available at your local scrubs retailer. Find a retailer who carries Scrubs Magazine here.