Hottest husband of 2011 is a nurse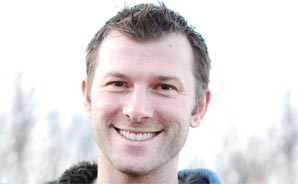 Each year, Redbook magazine has readers vote to select the "Hottest Husband" of the year. With thousands of votes tallied, 2011's honor goes to Kyle Dubey—a Registered Nurse.
Dubey has been married to his wife Julie for five years and has two children under the age of three with a third on the way in September. He says that he was working a desk job at a trucking company when the two first married, but wanted a career with more meaning when he began going to nursing school while still working a full-time job with an infant in the house.
Julie says it's Kyle's rugged looks and inviting smile that first attracted her to him years ago (and probably what prompted all the votes from Redbook readers), but it's his caring nature that makes the nursing industry a perfect fit for him.
Source: