How a nurse views the holiday season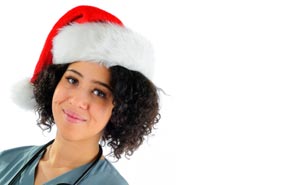 "It's the most wonderful time of the year."
Or is it?
Most nurses are shift workers within a hospital system. Most of us work for an employer in a facility that does not close for holidays or have those tricky "holiday hours."
The words "holiday" and "holiday season" don't really apply to us. As nurses, our "holiday season" gets adjusted.
We have to plan ahead, usually several months, in order to (hopefully) get the time off we want or prefer. Staffing is always a game of Russian roulette. In my short time as a nurse, I haven't found a system that is 100% fair–there is always someone or some shift that gets the short end of the stick.
Luckily, employers are making every attempt to level the playing field. Gone are the days of seniority and "I've been here longer." Gone are the days of getting all major holidays off. Everyone has to contribute, everyone has to sacrifice.
But even with the fairness and empathy, we nurses still have to make personal sacrifices during the holidays. It's this time of the year when some of us question: Is this career really worth it?
I mean, it's not just this holiday season–all of our holidays are impacted by our profession. We make major adjustments within our personal lives each and every month of the year and have to schedule time with those we love.
We can't be spontaneous. We can't simply call off to go have fun–we know the repercussions of our absence. We remember what it's like to work short-handed.
This time of the year is supposed to be a time of joy, celebration and memories. Instead we nurses are ruminating over what shift we are working, who's covering, who's off, and what's the staffing.
Sometimes a holiday is just another day on the calendar.