"How can I de-stress before nursing school exams?"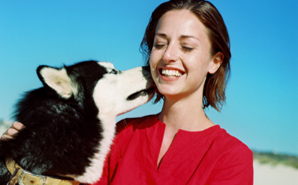 This feature is brought to you in partnership with the Johns Hopkins University School of Nursing. 
Time for a pop quiz, nursing students! When you're feeling stressed out, what do you do to cope? If your answer sounds dangerously close to "nothing," recent Johns Hopkins graduate Caitanya Min has a story you're going to want to take notes on before your next round of finals!
"Shadowing a JHUSON alumnus at Lucille Packard Children's Hospital in Palo Alto, CA, two years ago, I met a palliative care nurse practitioner who would visit patients with her golden retriever, Carley. She told me the most inspirational stories about how Carley provided relief and happiness to these very sick children. The stories made sense. Animals, especially dogs, are known for their unconditional love, and something about them just makes people so happy. They are amazing creatures."
An animal lover since she was a child, Min did some research on the healing power of pets while wondering whether animal interactions might help stressed nursing students.
"The clincher: A study that looked at pet therapy and its effects on anxious nursing students. Pet Therapy: Dogs De-Stress Students by Judith S. Young, published in the Journal of Christian Nursing, details Young's observations on how interacting with her dogs put students in the right frame of mind for exams."
Armed with that knowledge, Min helped arrange to bring some doggie visitors to the Johns Hopkins School of Nursing during exam time. How'd the stressed students fare?
"The dogs were an absolute magnet–I would say that everyone who walked past the glass doors of the Carpenter Room had to poke their head in and see what the activity was all about. Hearing so much laughter, oooh-ing, and aaah-ing and seeing such relaxation and general joy and cheer made me only wish we had tried to bring Pets on Wheels to the School of Nursing a lot earlier."
Read the full story here.
Nursing students (and seasoned nurses!), do you think quality time with some adorable animals would help lower your stress levels? How do you usually de-stress? Let us know in the comments below.